The Great Ones – Ch. Chinoes Adamant James
Click here to read the complete article
258 – October, 2022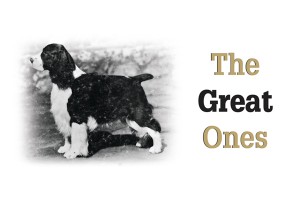 By Kerrin Winter-Churchill
The Son Also Rises 
If you've ever given your entire heart to a dog, then you know the price you must eventually pay. The only thing that can ever cure the loss of a great love is another love, and even though it's not easy to understand this at the time when your heart is breaking into little, shattered pieces, the best thing to do is to get another dog. Don't look back, just throw your heart over and bring home another somebody to love.
Sometimes people are not as brave as dogs, and they live long, barren lives after losing their best friend. Lucky for all of us, Mrs. Ann Roberts dared to love again and when her beloved Springer died, she listened to her heart and brought home a puppy that would grow up to be known as Ch. Canarch Inchidony Brook.
In her lifetime, Brook produced a short but powerful list of winners, and she lives on today in the blood of some of the best Springers in the world. What was it about this terrific dam that caused her to pass along greatness to her children? We need look no further than her sire, the immortal Ch. Inchidony Prince Charming. Known as "Charlie," he was bred and shown to his championship by Mr. Becher W. Hungerford, who owned Ch. Salilyn's Cinderella II, a bitch which he bred to Ch. Salilyn's Citation II. Since both sire and dam were linebred on the immortal Ch. Rodrique of Sandblown Acres, one suspects that Mr. Hungerford was operating on a hunch that greatness was in the mix. He was right, of course, and prior to Aristocrat's explosive entry into the stud dog hall of fame, the most respected breeders of the day spoke of Prince Charming as "greatness personified."
Indeed, Charlie's biggest fan was Mrs. Julia Gasow of Salilyn herself, who sang his highest praise. She called him "the greatest stud and producer of champions since Rufton Recorder." If these were powerful words to stand against, Charlie did so with ease. In his lifetime he sired 50 champions, including the gorgeous black and white Ch. Charlyle's Fair Warning; the immortal sire of sires, Ch. Salilyn's Aristocrat; and the lovely Ch. Canarch Inchidony Brook, who in her turn produced the unforgettable Aristocrat son, Ch. Chinoes Adamant James.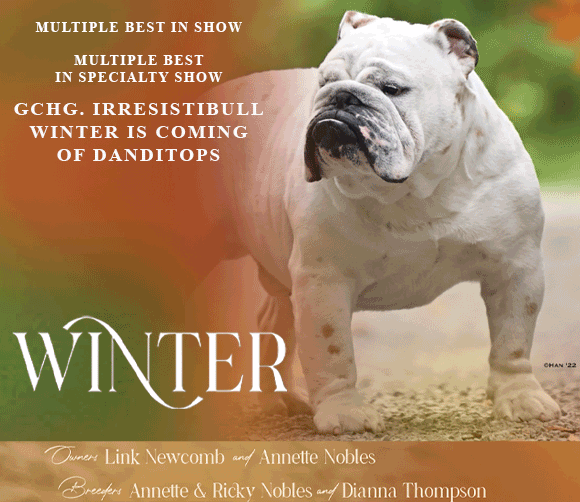 Short URL: https://caninechronicle.com/?p=247540
Posted by
AnthonyA
on Oct 21 2022. Filed under
Current Articles
,
Dog Show History
,
Featured
. You can follow any responses to this entry through the
RSS 2.0
. Both comments and pings are currently closed.