How a Sculptress Saved a Breed
Click here to read the complete article
170 – September, 2022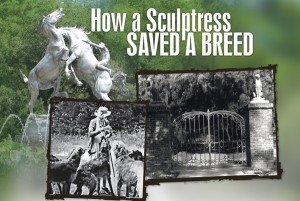 By Caroline Coile
A drive down the South Carolina coast on U.S. 17 will take you past Huntington Beach, and through Huntington Marsh and Huntington State Park—and past a larger-than-life statue of two fighting horses heralding the entrance to the largest sculpture garden in America: Brookgreen Gardens.
Turn in and you'll find yourself immersed in 9100 acres of trails meandering amongst formal gardens and natural live oaks groves, awed by immense sculptures set in nature and smaller pieces set in quiet courtyards. The area, and the gardens, were the special loves of Anna and Archer Huntington. But they had yet another passion: their Scottish Deerhounds. And the legacy they left in the breed is as great as the one they left in Brookgreen as well as museums around the country.
Anna Hyatt Huntington
Anna Vaughn Hyatt Huntington was a rock star of her day. But it wasn't always so. Born in 1876, her family was the perfect mix to encourage her interest in art and animals. Her mother was an amateur landscape painter of some note. Her father, Alpheus Hyatt II, was a professor of zoology and paleontology at Harvard University and MIT, and notable for pioneering the field of marine biology and for establishing the Woods Hole Marine Laboratory. When Anna was still very young he moved the family to the Norwood/Hyatt House which doubled as a summer marine lab for his students. Alpheus encouraged young Anna's interest in animal anatomy, and she could always be found studying and sketching every animal she encountered. Anna studied to become a concert violinist until one day her older sister, who was a professionally trained sculptress, asked for her help on a composition. Anna incorporated their family's Great Dane into the sculpture. The piece was competitively exhibited and sold, and Anna had a new passion.
Anna was largely self-taught. She briefly studied under sculptor Henry Hudson Kitson until he reportedly threw her out for pointing out problems with his equine anatomy. When her father died in 1902, she and her mother moved to New York City, where she would spend days at the Bronx zoo and at various circuses, making "sketches" with clay rather than on paper. She began to exhibit her work by age 23.
She spent two years in Paris, where she began work on her Joan of Arc. In 1910 the Paris salon committee rejected her first submission of her Joan of Arc prototype, as "too good to have been done by a woman," suspecting it was done at least partly by a man. Nonetheless, they still awarded it an honorable mention.
Click here to read the complete article
170 – September, 2022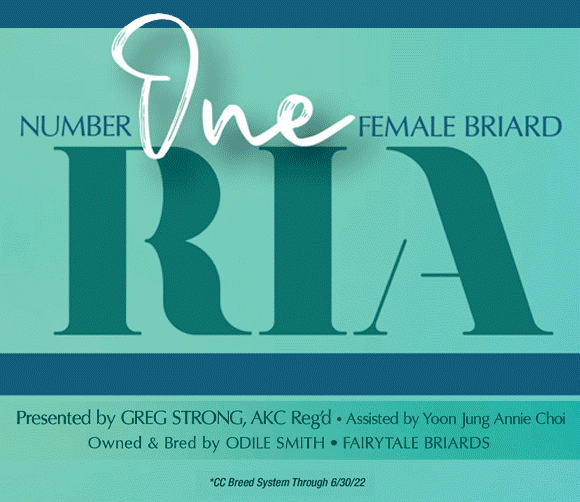 Short URL: https://caninechronicle.com/?p=243708
Posted by
AnthonyA
on Sep 16 2022. Filed under
Current Articles
,
Editorial
,
Featured
. You can follow any responses to this entry through the
RSS 2.0
. Both comments and pings are currently closed.