Caroline Coile Tops the National Owner-Handled Series
Click here to read the complete article
114 – The Annual, 2022-23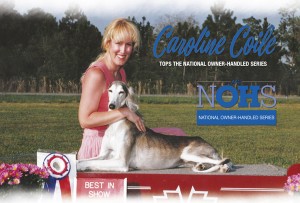 By Amy Fernandez
Love at first sight. We've heard that phrase a million times and generally we're right by consigning it to the realm of greeting card marketing. Yeah, maybe, mostly…unless you happen to reside in our world. The dedication demanded for success in this sport only comes from one place–absolute love at first sight. And that's certainly the way it went down for Caroline Coile. She's a familiar name as an award-winning writer and successful Saluki breeder as well as a name that constantly pops up in the monthly NOHS rankings. We got a lot to unpack here.
Caroline was just a kid when her first sighthound arrived, a Whippet. And no one would've put money on that outcome as she admits. "I came from a non-dog show family. But when our mixed breed died when I was six, my mom announced we were getting a new dog—a Whippet—which she explained was a type of hound. To me, hound meant the Hush Puppy Basset Hound, and—well, I guess I'll never win under any Basset Hound breeders again but—I recall having a full fledged tantrum saying I would never feed or walk or do anything with such a dog! Again, sorry Basset Hound friends."
Like any sensible parent, Caroline's mom quickly put a lid on that nonsense. "She pulled out the encyclopedia and showed me the Whippet, which I was then fine with…only there was this other dog right next to it—a Saluki. THAT was the dog I wanted!"
Sorry Caroline, that's not how kid/parent reality works. "So we got the Whippet, a self-fawn, and I loved her. I loved walking her on the beach and impressing my friends by saying she was a baby deer (they were gullible). Soon after, there was an ad in the paper for a dog show, so we went. It might as well have been a trip to Disney World." You can see where this is heading.
Click here to read the complete article
114 – The Annual, 2022-23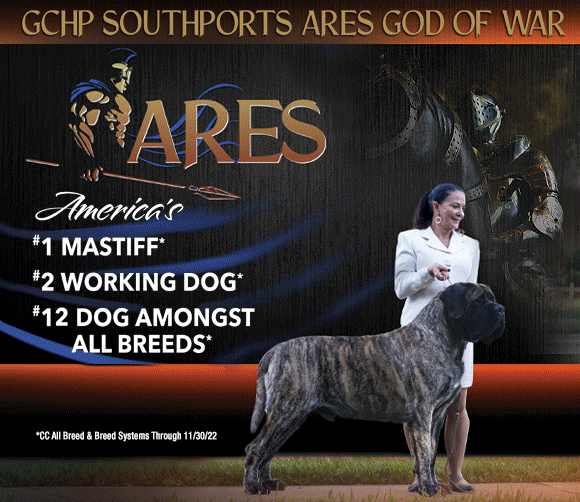 Short URL: https://caninechronicle.com/?p=254257
Posted by
AnthonyA
on Dec 29 2022. Filed under
Current Articles
,
Featured
. You can follow any responses to this entry through the
RSS 2.0
. Both comments and pings are currently closed.