David Fitzpatrick Wins Morris & Essex A Third Time
Click here to read the complete article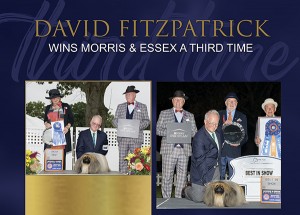 By Amy Fernandez
Whether it's your first day on the job or you're staring down a life sentence, you won't get far in the dog game without a vivid imagination. Generally, this is considered a creative talent rather than a survival trait. But just think about how it plays into every step of the process, from envisioning that ideal image defined in your breed's standard to planning the future of your next great puppy. And needless to say, no sane person gets up before dawn and drives hundreds of miles without a good mental picture of positive results. However, no amount of dog biz visualization can prepare you for some eventualities–like winning M&E three times in a row.
By now everyone knows the outcome of M&E 2021. Wasabi has been the hot contender since his debut in 2019. I finally caught up with David a couple weeks after the show. Right after M&E he headed off to judge the PCA National at Camp Hill, Pennsylvania. That was his second round doing it and he's busy laying the groundwork for the next phase of his career as a judge. But we will get to all that in a minute. Let's start with the big news.
David says, "Everything about that show is so unreal. Every time I go there I think, 'Whoa… just the idea of getting 4,000-plus dogs together on a Wednesday in October is crazy." True enough. Especially after last year, this year's turnout of almost 4,500 was truly impressive as was the crowd's unremitting dedication to period style. The 1920s is a goldmine of fashion classics and dog people definitely know how to stage it. Of course, in David's case there was the bigger looming question of whether it's worth the reputational risk for a big winner to take on the challenge.
Wasabi's pre-pandemic career clearly proved that fact is far stranger than fiction. Progressive 2020, as usual, was packed with the international cream of the crop of Toy breed superstars. But the dog with a definite edge came into it with the biggest win of 2019. As David admits, "Unknown dogs just don't win the AKC show." Yeah well, this one did. Wasabi also went Best Bred-By In Show. Just shy of two, he breezed through Progressive and capped off that week with a Group Second at Westminster. Shows slowed to a trickle after February 2020, but even that didn't prevent him from ending the year miles ahead of the pack.
Click here to read the complete article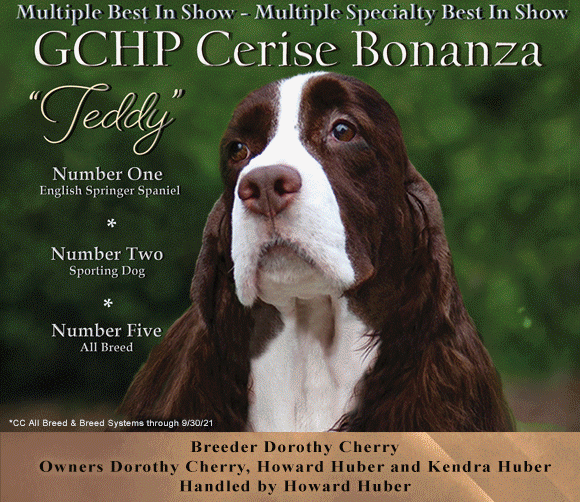 Short URL: http://caninechronicle.com/?p=218113
Posted by
AnthonyA
on Dec 21 2021. Filed under
Current Articles
,
Featured
. You can follow any responses to this entry through the
RSS 2.0
. Both comments and pings are currently closed.