AKC Breeder of Merit Program
Recognizing and Honoring Our Dedicated Breeders · 
by Dr. Carmelo L. Battaglia ·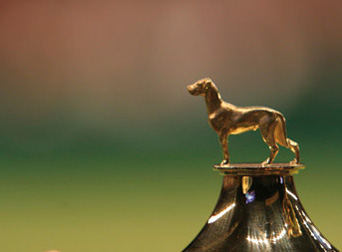 INTRODUCTION
Since its inception on September 17, 1884, and with the common desire to establish a "Club of Clubs", the American Kennel Club set out to serve all who were committed and dedicated to the sport of purebred dogs. During the past 128 years the AKC has successfully managed the sport, developed a stud book, funded canine health research, supported the AKC Museum of the Dog, established a library, provided a lost and found service (CAR), and developed a legislative program along with many providing many other services to purebred dog fanciers and dogs in general.
In 2010, AKC created a new program called the Breeder of Merit (BOM) program to honor the hard work and dedication required to produce dogs that are sound, capable and healthy. Those who meet the eligibility requirements of the BOM program represent people with the power to influence, guide, and teach future breeders, exhibitors, and owners.
The BOM program is open to all purebred dog breeders who have been involved in AKC events for at least five years and have bred at least four titled dogs in any venue. These breeders must be a member of an AKC licensed club and demonstrate a commitment to ensuring 100% of the puppies they produce are AKC registered.
Breeders of Merit can be found in every breed. They have varying interests, a developed set of breeder skills* and knowledge about the breeder tools*. Some only breed a few litters each year; but they all have a long and distinguished history as a breeder. The common denominator is their desire to breed healthy dogs with correct type and good temperaments.  The program relies on the involvement and leadership of Parent Clubs who identify specific health screening recommendations necessary to produce healthy dogs. Parent Clubs are central to each breed and their breeders who look to them for guidance on all things concerning their breed and the development of their Breed Standard.
BACKGROUND
When I first became interested in purebred dogs, the idea of breeding and registering a litter of beautiful pups was intriguing. It was something I wanted to do. As a new breeder my first few litters were average in quality because I had not developed the eight breeder skills needed to produce the better dogs and I did not know how to use the breeder tools*. With time and a few good mentors I learned how to analyze pedigrees, use formula breeding, manage the carriers and use the new DNA tests that are available. This involvement furthered my own research which included attending seminars and connecting me with other serious breeders. My level of involvement increased after I had graduated from Florida State University. Fortunately, I had taken courses in research and animal behavior which led me to Gregor Mendel who in the 1850s discovered what today we call genetics. It wasn't long before I was using many of his ideas and developing my breeder skills. Over the past 30 years I have bred many champions and produced several good stud dogs and brood bitches.
BETTER TOOLS AND SKILLS
After graduate school we moved to Atlanta where I took a position as Assistant Dean at Emory University. This allowed me to continue my research in breeding. The quality of my pups had improved and I learned that registering all of my pups using my kennel name made it easy to find and track their progress as they became mature adults. This approach proved to be even more useful when I began evaluating litters which is the fourth breeder skill*. By the 1990s several databases were available such as the OFA and CERF. OFA is a registry for hips and elbows and 14 DNA registries and CERF is the registry for eye tests. I learned that by registering all of my pups using my kennel name and a letter of the alphabet, I could easily find and track their progress later. The advantage to using a kennel name and the alphabet was that I no longer had to remember how I named each pup. For example, here is how I would name pups in three typical litters:
"A" litter – Van Cleves Alpha
"B" litter – Van Cleves Binna
"C" litter – Van Cleves Cassandra
Naming pups using this method allowed me to find them in a database by just using my kennel name ("Van Cleve"). It eliminated those long and exhausting efforts which required that I recall how I had named each pup. My new puppy buyers also benefited because they would always be able to recognize a littermate to their pup by the letter of the alphabet and that I was the breeder. This approach still allowed a new owner to name their pup with a name of their choice. For example, I recall a buyer who bought a male pup that was in the "O" litter. The new owner asked if he could name the pup "Vernon". I named the pup Van Cleves O. Vernon. We both got what we wanted. I also microchip every pup before they are sold which protects them from theft and assures the new owner that if lost they have a 90% chance of getting them back. Buyers are grateful when they learn their pup has been microchipped, enrolled in the AKC/CAR database and AKC registered.
BREEDER TOOLS AND SKILLS
Breeding has progressed over the past 20 years and now we know there are eight breeder skills and a long list of breeder tools that are available. In the dog sport three sets of skills have been identified as key to success. One set of skills is needed to breed, another to judge and a third to handle. One set cannot be used for all three.
TABLE 1 – BREEDER SKILLS
1. Know the breed standard – virtues, faults and disqualifications
and how it is interpreted.
2. Breed knowledge – understand how form and function fit it and
know the dreaded diseases.
3. Selecting sires and dams – plan breedings based on offsetting
strengths and weaknesses.
4. Evaluate pedigrees (depth/breadth)
– vertical and horizontal analysis
5. Develop a record system – based on data and
heritable information.
6. Evaluate litters (Hubrecht)
7. Pick best puppies
8. Manage, feed, and develop what you keep
(Fox, Battaglia)
BREEDER TOOLS
Tools come in many forms. They make work easier and more efficient. The dog sport offers many tools to its breeders, judges and exhibitors. Many can be found at www.breedingbetterdogs.com. Listed below are a few:
AKC registrations/microchips – database searches, tracking/recovery
Continuing education – Breeders site: www.breedingbetterdogs.com
Canine Health Information Center (CHIC) (www.caninehealthinfo.org)
Canine Eye Registry Foundation (CERF) (http://www.vmdb.org/ cerf.html)
Orthopedic Foundation of America (OFA) (www.offa.org)
Desirability Checklist (hips) – Recommended by OFA
DNA Tests – Diagnostics for health, parentage, coat and color/type
Mating Probability Table – Risk levels developed by OFA
My AKC – Free service (tracks dogs and offspring), www.AKC.org
Pedigree software – Speeds up coding and tracking traits
Pedigrees (3) – Traditional, Stick Dog Color Chart, Symbols
Record System & 3 ring binders
Health aids – Keno Pet pad
Dual Sired Litters
Books and DVD's on breeding and puppy selection
Combining ideas with information is the mark of a seasoned breeder. It's like registering and naming each pup in a litter using a kennel name. Experienced breeders know the importance of using the breeder tools. One tool that is FREE from the AKC provides information about AKC registered dogs and litters. Recently I used "MY AKC" to check on the progress of a pup I had sold last year and found that the pup had already earned championship points. "MY AKC" is also useful for tracking other dogs of interest and their achievements, especially in the companion and performance events. Every breeder should use this free service and open their own account.  Go to the AKC home page at www.AKC.org (see above). Look in the upper right hand corner, click on "Create Account" and follow a few easy instructions.
BOM PROGRAM REQUIREMENTS
More than 60% of all breeders now register their litters online because the process is easy and you get a price discount for a full litter registration when all of the puppies are registered at one time to the breeder or to the new puppy buyers. The process is convenient, efficient and saves time. My last litter was registered on- line in less than three days.
AKC data shows that close to 50% of those eligible (17,000) for the BOM program have signed up for the program. As parent clubs and local clubs begin to disseminate information about the BOM program to their members, the level of participation will increase. As mentioned earlier, eligibility for the BOM program is well within reach of many breeders. They are:
1. A history of at least 5 years in AKC events.
2. Have bred and titled at least 4 Conformation, Performance
or Companion dogs.
3. Membership in an AKC member club.
4. Willingness to use the health screens recommended by their Parent Club. Many use the Canine Health Information Coucil (CHIC) for these tests.
5. Demonstrate a commitment to registering 100% of their puppies.
BENEFITS
There are many benefits for those who participate in the program. Here are a just a few:
• BOM's are designated on all AKC registration applica- tions and on AKC certificates.
• Complimentary access to online reports.
• Access to the AKC direct toll free number.
• Free online record keeping.
• A frameable certificate of distinction.
• Breed-specific web banners for use on the breeder's website (see below)
• A free listing on the AKC website
• Free breeder online classified listings of their litters
• Free subscription to the Inner Circle Newsletter for breeders
• BOM lapel pin
There are many other reasons that explain why breeders have signed up for the BOM program. I thought this statement by Doug Ljungren says it all:
"I am proud to be an AKC Breeder of Merit participant. The AKC Breeder of Merit Program provides breeders a way to differentiate themselves. The distinction conveys to puppy buyers that you are committed to the furtherance of your breed and that your puppy possesses known qualities. This long-term commitment to preserving and protecting your breed should be comforting to new puppy owners.
For those interested in maintaining the proper conformation, working skills and health of a breed, there is nothing more basic than registration integrity. Registration integrity assures that the traits and skills identified in previous generations will not be lost and likely will be passed on to our current dogs. AKC Breeder of Merit participants uphold this through their 100% registration commitment. Dog owners can feel confident with the integrity of the AKC registry."
If we were flies on the wall and could listen to some of the issues discussed by those recognized as a BOM we would hear in-depth questions about breeding, managing pups and competition.
Here are a few of the nutritional issues recently addressed by such a group:
1. What success have you had feeding DHA as a supplement to your bitches in whelp? (Hoffman et al.)
2. What is the nutrition (dry/wet) you feed dams prior to, during and after whelp, and while nursing? (Kelley)
3. Do you add vitamins or supplements to the dam's diet prior to or after whelp?
4. How have you overcome a dam that is unable or unwilling to take care of her puppies?
5. If you need to supplement puppies, what method do you use?
6. What is your method for weaning puppies?
7. How has early neurological stimulation exercises (3-16 days after birth) influenced your pups? (Battaglia)
Serious breeders are always discussing their ideas and concerns. For example, many of the concerns and questions stated above and the subsequent answers can be found on the website www.breedingbetterdogs.com . There you will also find information about pedigree analysis, nutrition and management. A free "Breeding Better Dogs Newsletter" and a continuing education program are available at no cost.
Those interested in becoming a Breeder of Merit can download the free application from AKC. The application process takes less than five days: http://www.akc.org/breederofmerit/ index.cfm.
References:
Battaglia, C., 2009. Periods of early development and the effects of stimulation and social experiences in the canine. J. Vet. Behav. Clin. `Res. 4, p. 209.
Dunbar, I., 1985. Socialization, Center for Applied Animal Behavior, Berkeley, CA. First published in 1933 by McGraw Hill, reprinted in 1967 by Hafner.
Fox, M., 1971. Integrative Development of Brain and Behavior in the Dog, University of Chicago Press, Chicago, Il., pp. 225-233.
Fox, M., 1972a. Understanding Your Dog, Coward, McCann and Geoghegan, Inc. New York, NY, pp. 101- 108.
Fox, M., 1972b. Understanding Your Dog, Coward, McCann and Geoghegan, Inc. New York, NY,
Hoffman, L., Kelley, R., Waltz, D., 2004. For smarter more trainable puppies: effect of docosahexaenoic acid on puppy trainability. Iams, Eukanuba and Eukanuba veterinary diets, Dayton, OH.
Hubrecht, R., 1995. Enrichment in puppyhood and its effects on later behavior in dogs. Lab. Anim. Sci. 45, 70-75.
Kelley, R. 2001. Canine reproductive management: factors influencing litter size. Annual Conference / Society for Theriogenology, Lexington, Ky., pp. 263-272.
Kelley, R. 2005. Improving puppy trainability through nutrition, Proceedings symposium at the federation of animal science societies FASS, Cincinnati, OH, pg. 11-13.
Otto, C., 2010. Medical Surveillance of search dog deployed to the world trade center and pentagon: 2001-2006. J. Environmental health, Sept., pg. 1-19.
ABOUT THE AUTHOR
Carmelo L. Battaglia holds Ph.D. and Master's Degrees from Florida State University. As an AKC judge, researcher and writer, he has long been a leader in promoting the better ways to breed dogs. He is an author of many articles and several books and is a popular guest on TV and radio talk shows including several appearances on Animal Planet. His seminars on breeding dogs, selecting sires, choosing and developing puppies have been well received by breed clubs throughout the world. Those interested in learning more about these topics should visit the website http://www.breedingbetterdogs.com and subscribe to the free breeders newsletter.
Short URL: http://caninechronicle.com/?p=2420
Posted by
admin
on Feb 15 2012. Filed under
Breaking News
,
Current Articles
. You can follow any responses to this entry through the
RSS 2.0
. Both comments and pings are currently closed.