AKC Breeder of Merit Program
Recognizing and Honoring Our Dedicated Breeders · 
by Dr. Carmelo L. Battaglia ·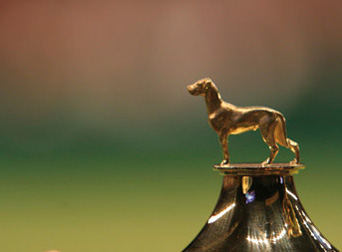 INTRODUCTION
Since its inception on September 17, 1884, and with the common desire to establish a "Club of Clubs", the American Kennel Club set out to serve all who were committed and dedicated to the sport of purebred dogs. During the past 128 years the AKC has successfully managed the sport, developed a stud book, funded canine health research, supported the AKC Museum of the Dog, established a library, provided a lost and found service (CAR), and developed a legislative program along with many providing many other services to purebred dog fanciers and dogs in general.
In 2010, AKC created a new program called the Breeder of Merit (BOM) program to honor the hard work and dedication required to produce dogs that are sound, capable and healthy. Those who meet the eligibility requirements of the BOM program represent people with the power to influence, guide, and teach future breeders, exhibitors, and owners.
The BOM program is open to all purebred dog breeders who have been involved in AKC events for at least five years and have bred at least four titled dogs in any venue. These breeders must be a member of an AKC licensed club and demonstrate a commitment to ensuring 100% of the puppies they produce are AKC registered.
Breeders of Merit can be found in every breed. They have varying interests, a developed set of breeder skills* and knowledge about the breeder tools*. Some only breed a few litters each year; but they all have a long and distinguished history as a breeder. The common denominator is their desire to breed healthy dogs with correct type and good temperaments.  The program relies on the involvement and leadership of Parent Clubs who identify specific health screening recommendations necessary to produce healthy dogs. Parent Clubs are central to each breed and their breeders who look to them for guidance on all things concerning their breed and the development of their Breed Standard.
BACKGROUND
When I first became interested in purebred dogs, the idea of breeding and registering a litter of beautiful pups was intriguing. It was something I wanted to do. As a new breeder my first few litters were average in quality because I had not developed the eight breeder skills needed to produce the better dogs and I did not know how to use the breeder tools*. With time and a few good mentors I learned how to analyze pedigrees, use formula breeding, manage the carriers and use the new DNA tests that are available. This involvement furthered my own research which included attending seminars and connecting me with other serious breeders. My level of involvement increased after I had graduated from Florida State University. Fortunately, I had taken courses in research and animal behavior which led me to Gregor Mendel who in the 1850s discovered what today we call genetics. It wasn't long before I was using many of his ideas and developing my breeder skills. Over the past 30 years I have bred many champions and produced several good stud dogs and brood bitches.
BETTER TOOLS AND SKILLS
After graduate school we moved to Atlanta where I took a position as Assistant Dean at Emory University. This allowed me to continue my research in breeding. The quality of my pups had improved and I learned that registering all of my pups using my kennel name made it easy to find and track their progress as they became mature adults. This approach proved to be even more useful when I began evaluating litters which is the fourth breeder skill*. By the 1990s several databases were available such as the OFA and CERF. OFA is a registry for hips and elbows and 14 DNA registries and CERF is the registry for eye tests. I learned that by registering all of my pups using my kennel name and a letter of the alphabet, I could easily find and track their progress later. The advantage to using a kennel name and the alphabet was that I no longer had to remember how I named each pup. For example, here is how I would name pups in three typical litters:
"A" litter – Van Cleves Alpha
"B" litter – Van Cleves Binna
"C" litter – Van Cleves Cassandra
Naming pups using this method allowed me to find them in a database by just using my kennel name ("Van Cleve"). It eliminated those long and exhausting efforts which required that I recall how I had named each pup. My new puppy buyers also benefited because they would always be able to recognize a littermate to their pup by the letter of the alphabet and that I was the breeder. This approach still allowed a new owner to name their pup with a name of their choice. For example, I recall a buyer who bought a male pup that was in the "O" litter. The new owner asked if he could name the pup "Vernon". I named the pup Van Cleves O. Vernon. We both got what we wanted. I also microchip every pup before they are sold which protects them from theft and assures the new owner that if lost they have a 90% chance of getting them back. Buyers are grateful when they learn their pup has been microchipped, enrolled in the AKC/CAR database and AKC registered.
BREEDER TOOLS AND SKILLS
Breeding has progressed over the past 20 years and now we know there are eight breeder skills and a long list of breeder tools that are available. In the dog sport three sets of skills have been identified as key to success. One set of skills is needed to breed, another to judge and a third to handle. One set cannot be used for all three.
Short URL: http://caninechronicle.com/?p=2420
Posted by
admin
on Jun 21 2012. Filed under
Breaking News
,
Current Articles
. You can follow any responses to this entry through the
RSS 2.0
. Both comments and pings are currently closed.