Table Talk · September 21, 2022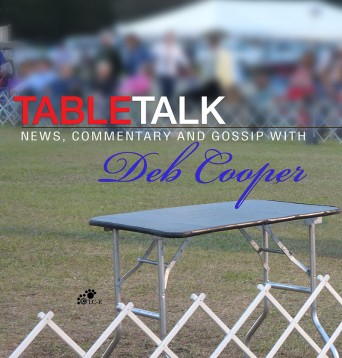 My most recent adventure was traveling to Purina Farms to show my dog!!! For a hound enthusiast, there was no better place to be! I had the pleasure to watch some specialties including Ibizan Hounds, Otterhounds, and Portuguese Podengos. These breeds held their National Specialties in conjunction with the Gateway Hound Show and the Three Rivers Kennel Club all breed shows. They had huge entries of incredible quality. In addition to having the rare opportunity to run left-handed circles with my pet, I was thrilled with the rare opportunity to see large, quality entries in several low-entry breeds!
It was great to see Andrea McIlwaine out and about, and able to enjoy the Otterhound National Specialty week. In true form, she was overdoing it! We are glad to see you back at the shows after your recent hip surgery, my friend!
I have chatted with several Owner/Handlers the past few months about their recent show experiences. The general consensus is that clubs are doing a terrific job of making the National Owner Handler Series a priority for their shows. From rosettes comparable to those given in the regular groups to Group and Best In Show prizes, owner/handlers prefer to support the clubs that recognize them equally.
A concern raised by all Owner/Handlers I have spoken with is the size of the group ring. There have been some shows where Owner/Handler groups are held in one breed ring. This size ring is not sufficient for most groups. Not only does a small ring restrict the dog's ability to move, it is also a safety concern.
There was not a dry eye in the house in Greeley, Colorado this past weekend when Anne Katona completed her final Best In Show assignment. In case you didn't know, she is retiring from judging. Those in the sport of purebred dogs will miss you in the center of the ring my friend, but we all look forward to seeing you at the shows in a different capacity.
Our sincere condolences to Kyle Robinson on the loss of her mother who passed away last week. We are thinking about you, Kyle.
The American Kennel Club Delegate Body approved the rule that dogs receiving group placements 2nd 3rd and 4th will receive the applicable number of points toward their Championship for the other breeds defeated in the group. Until now, only dogs receiving a group one received the highest number of championship points from the other breeds defeated. For more information, go to our website http://caninechronicle.com/breaking-news/revisions-to-the-rules-applying-to-dog-shows-points-for-group-placements/.
Also passed at the September 2022 Delegate's meeting is the provision to allow individuals approved by the American Kennel Club with the opportunity to serve as the show secretary for an increased number of all-breed events in a calendar year with the provision that their responsibilities are limited to those associated to the show secretary on-site for the event. Clubs opting to take advantage of this opportunity will be required to secure the services of a licensed superintendent for all items leading up to the event and an approved individual to serve as show secretary at the event.
Both of the above-mentioned revisions are effective January 1, 2023.
I think one of the most dreaded things that can happen to an exhibitor is having their dog excused or disqualified from the ring. There are some breeds such as poodles where there is a disqualification for its trim. In most cases this type of disqualification happens to new exhibitors who may need additional mentoring in grooming and trimming their poodle. In my humble opinion, if such a disqualification should occur, you need to seek help from an experienced individual in your breed and use the unfortunate situation as a learning experience.
Happy anniversary to Paul Clas and Chrystal Murray. Here is hoping the hard-working couple takes a bit of time to enjoy their special day. May you guys have many more happy, healthy years ahead!
Fanciers celebrating birthdays this week are David Stout, Jeanie McAdams, Debbie Thornton, Daniel Magee, Val Atkinson, Cheryl Fredericks, Tessie Savage, Sam Marquis, Jim Moses, Colton Johnson, Julie Lee, Liz Powell, Vesta Rash, Linda Pitts, Brittany Greendeer, Mandy Clevenger, John Kolodziej and Moe Miyagawa. Enjoy your special day, my friends!!!
This week I share with you some words of wisdom from Kellie Miller:
When the negative of a situation starts rolling out of your mouth or fingers, try restraining yourself. Your attitude is contagious–positive or negative alike. Like a domino effect, you can bring down or lift up on the next person. If you can control your negative, it will stop spreading across the world like the wildfire it is. Try understanding, kindness, and helpfulness and all other things that could improve the situation. If that is not in your wheelhouse, try silence.
It is not a perfect answer, but it helps. Be the change you want to see.
Thanks for the words of wisdom, Kellie!
Be safe out there my friends! I look forward to seeing you down the road. In the meantime, I would love to hear your thoughts and ideas for future topics for our Table Talk weekly column and Table Talk Live video segments! Please email me at deb.cooper@caninechornicle.com. Good luck to all! Until next time…
Short URL: https://caninechronicle.com/?p=246185