Table Talk · November 30, 2022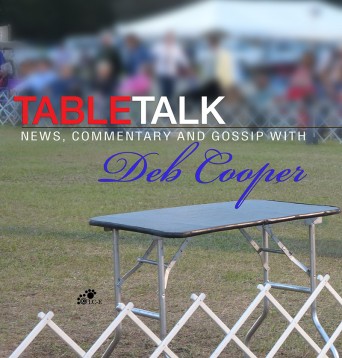 Holiday season 2022 has officially begun. On Thanksgiving Day, many fanciers had front row seating at the TV to watch The National Dog Show hoping to get a glimpse of their dogs in the group.  Unfortunately, there is not enough time to show each individual exam, and as a result some were disappointed that they didn't see their dog's special moment at a major, televised dog show. But fortunately, the groups were streamed in their entirety, so all was not lost. Please note that you can watch the show online and see all the individual examinations of the dogs in each group. While we, as seasoned exhibitors and owners, hope to see our dog on TV and may be disappointed if they don't make the broadcast cut, we cannot lose site that this televised show is great for our sport. Watching the dog show with family and friends after the Macy's parade is a household tradition for millions, and there is no better outreach for the sport. After the show airs, I get many questions and comments from my "non-dog" friends and acquaintances, and I gladly answer these questions with hopes that we attract more participants to our beloved sport.
The Best In Show winner does a media tour following their big win, and this year Perry Payson and his French Bulldog, Winston, did just that. Earlier in the year, Heather Buehner and her Bloodhound, Trumpet, did the tour after going Best in Show at Westminster. These television appearances are yet another great outreach opportunity for purebred dogs. I would like to give a shout-out to both individuals and their incredible dogs for doing a wonderful job representing our community, and our sport as a whole. Thank you for a job well done!!!
The American Kennel Club has established a new Master Groomer Certification. A Testing Event will be available during the week of the AKC National Championship. Check for details at https://www.akcdoggroominginstitute.com.
Many fanciers across the country wore blue at the shows this past weekend to honor the memory of Junior Handler Nick Carroll who recently passed. There was a moment of silence at the Council Bluffs show as Nick's sister gaited his Great Dane around the ring in his memory.  This was a wonderful way to honor him.
I was saddened to hear of the passing of long-time AKC judge Elaine Young this past week.  Elaine was a class act. She was an AKC judge for over 60 years, served as an AKC Board member for 12 years and had many accomplishments throughout her life. Not only was she a model, she also represented Canada in both the Olympic and British Empire Games in Track in Field. Elaine will be sorely missed by the fancy.
Healing thoughts to Sam Marquis who is home recovering after knee surgery. We look forward to seeing you back in the ring soon, Sam. In the meantime, take care of yourself!
Jann Butler spent her Thanksgiving a bit differently than she had planned. She slipped on the ice and had a nice ambulance ride to the hospital. She has a broken wrist and has several stitches in her head but no concussion–thank goodness! Hopefully, she will not need surgery to repair her wrist. Take it easy, and feel better soon, my friend!!
Anne Katona judged her final assignment at the Skokie Valley Kennel Club last week. Best wishes for a wonderful retirement! Please don't be a stranger and come see your friends at the shows. You will be missed in the center of the ring.
Congratulations to Ryan Wolfe and Nikki Ryan on your recent engagement. May the two of you have many happy years filled with love.
If your travel plans take you through the Ontario, California airport, be sure to stop by Terminal 4 where Afghan fancier and artist Terry Chacon's work is displayed. Terry does the beautiful artwork for the Santa Barbara Kennel Club every year, in addition to many other extraordinary pieces. I am told her work will be displayed at the airport for the next six months.  Congratulations on this well-deserved recognition, Terry!
A very happy 97th birthday to Wendell Sammet! Other fanciers celebrating birthdays this week are Jeff Lawrence, Curtiss Smith, Jennifer Costantinidis, Jamie Souza-Bartlett, Bonnie Wagaman, Colton O'Shea, Matt Hoaglund, Diane Ehricht, Desi Murphy, Caleb Dean Tolley, Lexie Rogers, Roger George, Scott Yergin and Johnny Shoemaker. Enjoy your special day, my friends!
Remember, my friends:  Just because it is taking time does not mean it is not happening!!!
Be safe out there and please use the holiday season as an excuse to lend an extra hand and be kind to all of those around you! I look forward to seeing you all very soon. We have some exciting Table Talk Live! Coverage coming up!!!  Until next time…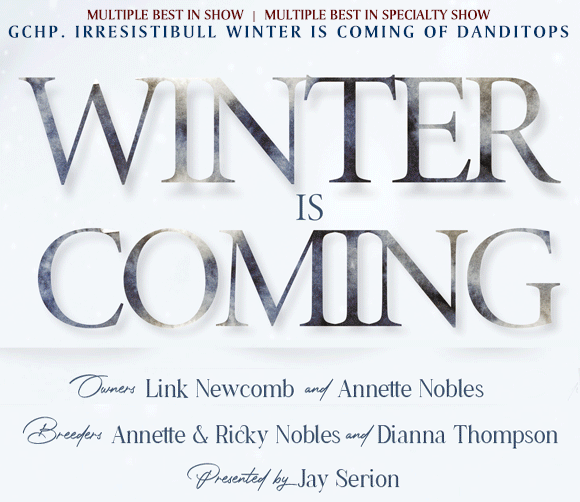 Short URL: https://caninechronicle.com/?p=252491