Westminster Rewind: Reflections of Westminster 2013: A Breeder's Dream Comes True
By Kerry Rushby
Photos by Lisa Croft-Elliott
Originally published: February 2014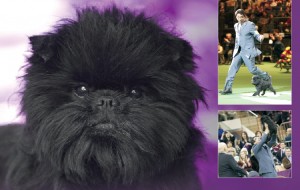 I had the pleasure this month of speaking with the breeder of the top winning Affenpinscher of all time in the USA, Banana Joe Tani Kazari, Mieke Cooijmans. Mieke lives in the Netherlands with her partner of 30 years and here Mieke describes the beginnings of her involvement in the breed and reviews her success in the breed, not forgetting the difficulties she has experienced along the way with the Affenpinscher as a breed in the FCI countries in Europe. Mieke explains:
The first time that I was really impressed by an Affenpinscher was in 1996 when I visited the United States. I thought they were absolutely stunning. I decided that if I could find an excellent specimen, I definitely wanted to have one. I discussed the possibility with my good friend, Carine, and we deliberated how nice it would be if we could import a nice dog and introduce a good example of the breed in the Netherlands. At the time, both of us were in different breeds, Carine has Papillons and I myself have Boston Terriers. We decided to call my friend, Mr. Allen Buckner, to help us in order to find a good Affenpinscher. Being a well-respected judge, Mr. Allen Buckner has much expertise and great knowledge of the top breeders in the United States. The first thing he told us was to be patient which we were. Allen told us of the Yarrows kennel in America from Beth Sweigart, so we contact Beth and she told me to be patient – which again, we were! Two years later, in 2000, she told me she had a lovely boy available, his name was Kyleakin Space Cowboy, and he was 6 months old. 'Kyleakin' was the kennel name of Letisha Wubbel – Beth's partner in breeding Affenpinschers. So in June 2000 Kyleakin Space Cowboy aka "Kicker" came to Holland. From day one I loved him with all my heart. I thought this was the funniest little dog I ever saw, and he was my foundation in the breed. From the first time he entered the show ring he continuously obtained BOBs. He obtained many titles and group placements. He also won a Group First and a Best in Show. The highlights of his career were definitely his Crufts title and last but not least his election as the Group 1st winner at the Dutch Top Dog election in 2004. This was a very exceptional victory for an Affenpinscher. "Kicker" is the undisputed top winning Affenpinscher in Europe. Kicker was a true eye opener for the sport and he proved that an Affenpinscher could do so much more than many could imagine.
After showing him, we knew it was time to continue with this wonderful breed. Kicker is now the sire and grandsire of many BIS winners. Still my best friend, he is nearly 14 years old. This year, though, he did breed all by himself and gave me a beautiful litter of 5 puppies and a litter of 1 beautiful beige puppy. He is the sire of our Banana Joe, too. Also Kicker's litter brother, Mighty Joe Young, was a stunner!! He, too, is still alive and healthy and loved. We decided to mate Kicker to Amazing Grace who is from Finnish bloodlines. Grace is not a true show bitch but she does have many good qualities, so we had good hopes for the combination with Kicker. Amazing Grace gave birth to two bitches and one dog. We decided to keep them all in order to see how they would develop. Their names are: Bling Bling, Tinkerbell and King Kong. The combination proved to be very successful. Kicker's daughter, Bling Bling, has had great success at the shows. At the Winner Dog Show in Amsterdam, she even beat her father and she obtained the Junior Winner title, the Winner title and got elected Best of Breed – all this at just 11 months of age! That's when we started the foundation of our Affenpinscher kennel.
KR: Where did the Kennel Name 'Tani Kazari' originate from?
MC: The name Tani Kazari is an old Japanese name and means 'Valley of the Jewelry'. Many years ago I had Japanese Chins – so that name I kept for my Affenpinschers. As we started with Boston Terriers 25 years ago, I had the name Boston Rangers – which didn't fit the elegant Japanese Chins.
Showing in the beginning was not what we expected; as a Yankee in the land of the breed's roots in Germany, and on top of that with one that looked so different, the dog was something they didn't know what to do with when judging. Kicker did fit exactly in the FCI standard: he was short, had a perfect mouth, had a fabulous head and showed wonderfully…. But standing in the ring with other Affens that did not look like him made him weird in many judges eyes. On top of that, we did groom him – which was never done before in Germany, so you can imagine what was to happen – they kicked us out of the ring every time! I felt like a pit bull biting myself fast in a dream. I wanted to win with him as he was one of the best Affenpinschers, and still is in my eyes. The funny thing was that after almost every show, the breed judges came to me telling how funny this little dog was, and if they had the choice they would take him home with them. Of course, my answer was always, 'Then why didn't he win??' We always got the same answer, 'Well.. he is not like the others…!' And no, he wasn't. In Europe they were so focused on teeth that the type was gone and, of course, when a dog from another country, especially America, comes in, the first thing they say is, 'Must be something wrong with his teeth.. which was not that at all!!! One day we had a change of judge for the breed to a breed specialist from Germany. I was already prepared that he would not give me anything. To make a long story short, he awarded Kicker BOB and asked me to come in the middle of the ring asking the other breeder to step in too. He pointed to Kicker and shouted (as he had a really loud voice) 'THIS IS HOW AN AFFENPINSCHER SHOULD LOOK!' I can't describe the feeling, as after that Kicker never ever lost another show in his life.
He was top dog Working group in Holland. He won BOB in England in 2003, he won the FCI group at an international show in Rotterdam under breed specialist Mr. V A v Raamsdonk, and with that, both the judge and Kicker made history as it was the first time ever at a International All Breed show that an Affenpinscher won the group, and got Reserve BIS. It was Kicker who opened all the doors for the breed in Europe. Of course, after this my goal was to get a huge win in Germany, and we did, the big national in Dortmund in 2007. We won BIS under Mr. Hans Lethinen with Kicker's grandson, Shaka Zulu v Tani Kazari at 16 months. In 2009, we won the huge Bundessieger Show in Dortmund – BIS with Banana Joe (Kicker's son). After that, many of his offspring had amazing success. Pizzerico v Tani Kazari put his pawprints deep in swedish showground when he won several Best In Shows at International shows. Billy Bongo v Tani Kazari won BIS at International shows in 3 different countries –?Holland, Belgium and the Netherlands. In Finland, little Mambo Jambo v Tani Kazari won several BIS at International shows. His litter brother, Champagne Charly, has 32 BIS in Canada. In the Netherlands, Taonga v Tani Kazari was Best In Show at International shows in Germany and Austria, Shaka Zulu in Germany, Humpty Dumpty BIS in Israel, Lily Marleentje v Tani Kazari in Thailand, as did Noa v Tani Kazari then we had some nice group one places with Jumandji v Tani Kazari in Norway.
KR: What is the future plans for Tani Kazari?
MC: We still do our very best to make the future bright for all of our little Affenpinschers. Our family, as well my husband, daughter, Iris, and my son, Bertran, work hard to see them shine all over the globe and we really enjoy our Tani Kazari Affenpinschers every day.
KR: Apart from the success already, what, as a breeder-handler, do you still wish to achieve in your breed?
MC: My biggest wish is that FCI would accept the colored ones, as its such a small gene pool, and they want us to make the gene pool as wide as possible but to shut out the different color makes it so difficult. Also, I hope we can continue to go on the way we do now with great pleasure and great passion. We know when you really have that for a breed, you can receive great rewards.
KR: What is the highlight of your breeding career so far Mieke?
MC: I am pleased to see my breeding continue to succeed in countries overseas, and my biggest thrill to date is watching my own 'Banana Joe' win Westminster 2013 with his handler, Ernesto Lara. Team Joey has been remarkable and I could not want a better team to see Banana Joe achieve all that he had in his career. For me, this is a big achievement for a breeder from the small country of the Netherlands. I look forward to returning to New York in February, 2014 with Banana Joe who has been invited back to celebrate last year's success.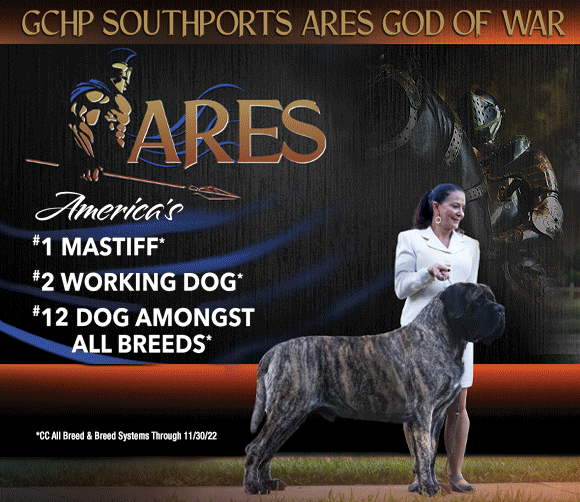 Short URL: https://caninechronicle.com/?p=256738
Posted by
Liz Powell
on Feb 10 2023. Filed under
Current Articles
,
Dog Show History
,
Featured
. You can follow any responses to this entry through the
RSS 2.0
. Both comments and pings are currently closed.