Westminster Rewind: Best In Show Shockers At Westminster
By Amy Fernandez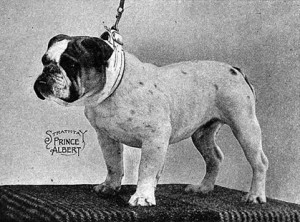 For the second time since 1992, class dogs will compete at Westminster. Many veteran exhibitors rejoiced when this aspect of competition was reinstated. It has long been the source of cherished Westminster memories and big wins from the classes. After all, Westminster has a longstanding reputation for shocking upsets. Class dogs regularly took Breed over specials. Many captured even bigger wins. And yes, Westminster has been the scene of every exhibitor's ultimate fantasy of taking a class dog to the top.
That bombshell first occurred soon after Westminster began awarding BIS in 1907. In 1913, a Bulldog, Strathtay Prince Albert, made headlines for several reasons. He represented the first breed to challenge Terrier domination of Westminster. He arrived from England two weeks earlier. This was his first show, but he got down to it straightway, taking Breed over an entry of 200 on his way to his historic BIS. The true irony of this situation was his previous history. By age three, he was rehomed three times before anyone noticed his outstanding quality and bothered to take him for a test drive in the show ring.
In 1922, a moderately successful Airedale breeder came down from Boston with his specials bitch and a promising young dog.  Fred Hood obviously had no visions of glory since he entered two-year-old Boxwood Barkentine in Novice.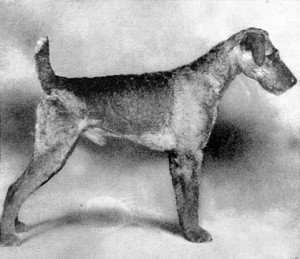 Barkentine got some attention when he took Breed over the previous weekend's specialty winner. The Westminster grapevine lit up when he slid into Group First. That was nothing compared to his hat trick in the BIS ring. Two years earlier, Ch. Briergate Bright Beauty became the first Airedale to take Westminster.  However, she was a notable import handled by a top professional. The odds-on favorite for 1922 was Ben Lewis's Greyhound bitch, Ch. Lansdowne Sunflower. She was a veteran contender with 19 BIS wins to her credit, and widely considered the finest Greyhound in America; and it's fair to say that the dog world was blindsided by Barkentine's upset.
Westminster 1929 may reign as the supreme upset in its long history of shockers. The Collie pup, later known as Laund Loyalty, was straight off the boat when he stepped into the ring that year. Top breeder Florence Ilch purchased him as part of a package deal for her Bellhaven kennel. Nine-month-old "Don" arrived from England in late January with breeder/ judge William W. Stansfield who recently discovered his brother in the classes while judging the British Collie Club specialty. Stansfield unhesitatingly sent the eight-month-old pup to the top spot, then purchasing his brother to make a neat six-pack of dogs he planned to broker in New York.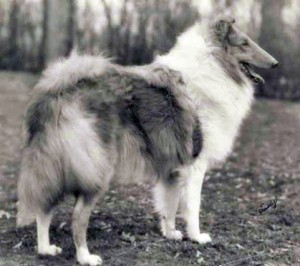 Although he wasn't registered and had no ring experience, Ilch entered him as Laund Loyalty of Bellhaven along with 18 other Bellhaven contenders. Don promptly grabbed BOB over an entry off 121. Defying the odds, he got through the Working Group, and stood out like a lost tourist in a BIS lineup of heavy hitters. The usual loud, lively spectator crowd was stunned into silence when the judge made the most unexpected decision in Westminster history. Unfortunately, Don's fame was short lived. He was never again exhibited and sired only one champion.
In 1934, the immortal Percy Roberts reaffirmed his reputation for picking winners. His new Wire bitch, Flornell Spicy Bit of Hallston, made her American ring debut at the previous weekend's specialty – where she did nothing. Things went a bit differently at Westminster. That year's entry of 146 Wires was judged by none other than AKC president Russell Johnson. Spicy Bit made quick work of the Group, but soon reminded the world that she was no seasoned pro.  By the time BIS rolled around, she had apparently revised her opinion of the whole business. The judge signaled the group to go around, Roberts kept going, but Spicy Bit slipped her lead and bolted for the hills. The steward called timeout  while Roberts corralled his wayward charge and returned to win his third Westminster Best.
In 1938, the 11-month-old English Setter pup, Daro of Maridor pulled off the most amazing feat in dog show history.  Still unregistered, he walked into the ring at his first show and took Breed from the puppy class. That was followed by a total upset in the Sporting Group that left the competition wondering what the hell happened.
That BIS lineup was no place for a puppy. Challengers included Percy Roberts with another BIS Wire, Ch.Flornell Spiceypiece of Halleston, the Poodle. Ch. Pillicoc Rumpelstiltskin, 1937's American Bred dog of the year, and the top winning, top producing Collie, Ch. Hertsville Headstone. The judge, John Bates, had won back-to-back Bests in 1930 and 1931. He knew his way around the Westminster BIS ring, and wasn't easily impressed.  But Daro did it. He became the first setter to win Westminster and the first American bred dog to do it in a decade.
By 1939, Westminster audiences were accustomed to shockers. But Geraldine Dodge raised the bar for that. Several months earlier, she sent her handler, Mac Halley, to Europe to find a dog to win Westminster. It was a tall order, and took longer than he expected. But weeks before the show, Halley set sail for New York with the legendary Doberman Ferry v Rauhfelson.
He had almost no prep time which was a problem because Ferry understood no English. It wasn't the only one. Ferry entered the breed ring to face off with his equally famous sire. After long, agonizing deliberation, Ferry got it. In comparison, the group was an easy victory.  That win sent him into one of the strongest BIS line-ups in Westminster history. Ferry was the only non-champion in there keeping company with Ch. My Own Brucie, Ch. Meadowlark Draftsman, Ch. Blackeen Jung Frau, Ch. Nornay Saddler. The crowd wasn't quite immune to shocks. Once again, there was stunned silence when Ferry became the first Doberman and the third Working dog to win Westminster.
After that, Westminster audiences had a break from rough shocks until 1945.  Pittsburgh breeders Howard and Mollie Snethen started their Shieling Scottie kennel in the mid 1930s. They were notable for doing their own grooming and handling in a breed dominated by pros. By then, they had finished 13 champions, including several BIS winners.
Two-year-old Shieling's Signature was a fourth generation homebred.  Completing his championship fulfilled his owners' Westminster expectations that day.  Taking Breed over specials was the icing on the cake. Scotties had earned their Westminster street cred, but the breed hadn't gone all the way since Ch. Tickle 'Em Jock nailed it in 1911. Nobody saw this one coming.
Westminster 1945 pulled 2652 entries from 93 breeds, and set a new record for spectator attendance. The crowd was wired for BIS, because, for the first time in Westminster's history, every finalist was American bred and owner/handled. The black Cocker representing the Sporting Group nearly missed the judging. Snethen did him one better, dropping his lead and losing his dog on the down and back. Signature won the house vote by completing a perfect down and back on his own. He returned to the judge, stood like a statue, cocked his head, and BIS was a done deal.
Fast-forward to last year, the first year class dogs were admitted entry to Westminster in over two decades, when the Old English Sheepdog, Ch. Bugaboo's Picture Perfect, stunned a large entry of specials by take the breed from the Bred-By Exhibitor class and then shocked the dog show world by winning the Herding Group that evening. The next evening, in a star-studded line-up, he missed Best in Show by a whisker, winning Reserve Best in Show under respected judge Mr. Michael Dougherty.
Westminster has never lacked shocking upsets, but it's been a long time since we saw a win of that magnitude. I am sure there will me more to come.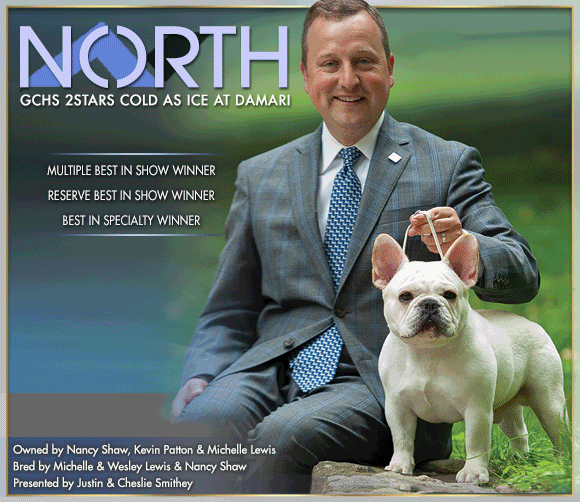 Short URL: https://caninechronicle.com/?p=256742
Posted by
Liz Powell
on Feb 11 2023. Filed under
Current Articles
,
Dog Show History
,
Featured
. You can follow any responses to this entry through the
RSS 2.0
. Both comments and pings are currently closed.