From The CC Vault: Forgotten Winners of the Working Group
By Amy Fernandez
Originally published: November 2014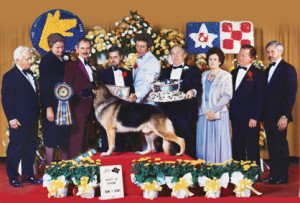 A glance at the monthly statistics confirms that plenty of Herding breeds rise to the top of the game. However, this only reflects their accomplishments since the formation of the Herding Group in 1983. Countless Herding breed superstars launched their careers from the Working Group, and even earlier. Before AKC implemented group divisions in 1924, Herding breeds competed from Non-Sporting. Lumped in with an improbable crew of opponents like Poodles and Bulldogs, it was far from an ideal showcase. That disadvantage compounded the pervasive dominance of Gundogs and Terriers. Those breeds arrived from Britain with street cred. That lead was further reinforced financially and politically, making them virtually impervious to challengers for decades.
Despite long odds, Herding breeds began ascending to the top tier of the sport. Rough Collies were the first to stake a claim in this rarified territory. According to Milo Denlinger's Complete Collie, "J. Pierpont Morgan's Cragston Kennels cut a wide swath in the awards at the biggest American shows." Founded in 1888, Cragston put Collies on the map. Morgan imported the best and campaigned them aggressively. For instance, in 1905 Cragston was represented by 17 entries at Westminster. As Denlinger noted, "Morgan collected Collies as he collected other works of art…His interest in the breed was in itself an impetus to its popularity."
Some of Morgan's winning Collies are remembered today –? Sefton Hero, Rufford Ormonde, Ormskirk Olympian, Wishaw Clinker, and Southport Strategy. His equally wealthy cutthroat rival, Samuel Untermyer, founded Greystone Kennel outside of Tarrytown. Likewise, it showcased the cream of British imports. Among others, Greystone brought over big winners like Southport Sculptor and Squire of Tytton.
"Their competition to obtain the best forced prices upward, which in turn stimulated interest in the breed." This Collie arms race produced a phenomenal stockpile of the best dogs from legendary kennels like Southport and Laund. In less than a decade, both of these titans were gone. They had elevated Collies to the top of America's show game and left a legacy that resounded through the gene pool for decades.
Collies were first out of the gate, but Old English Sheepdogs had an equally big impact. First imported around 1880, the breed entered the studbook in 1888. Like Collies, they had a formidable crew of supporters, headed by Andrew Carnegie. Along with Carnegie's infinite oil and steel money, the breed was promoted by one of the era's most respected authorities. Freeman Lloyd went to bat for Sheepdogs just as James Watson became an early advocate for Collies. Lloyd judged the first Collie classes at Westminster in 1903. The resulting 56 dog entry suggests that the breed was well established by then.
Within a year, Old English Sheepdogs rivaled Collies in terms of social cachet and affluent fanciers. Among them, Reginald Vanderbilt is credited with stabilizing the classic blue and white coloration that defined the breed's big winners for decades to come.
Textile heir Tyler Morse registered his Beaverbrook prefix in 1903, but that name didn't make headlines until his 1907 marriage to skyscraper/construction heiress Allon Fuller. Their dazzling Westbury, Long Island kennel was quickly stocked with 25 representatives of England's best bloodlines. Beaverbrook winners competed at every major East Coast show owner/handled by Allon. Their combination of top quality stock, flawless conditioning, and social gloss became an invincible force from 1908-1918.
Notable Beaverbrook imports included Ch. Shepton Hero and his son, Ch. Brentwood Hero. Both arrived with proven track records as winners and producers. They had equal success here, especially Ch. Brentwood Hero, who was unstoppable until he challenged his kennelmate, Ch. Slumber. Her dam, Nightmare, was imported in whelp in 1909. The resulting litter of nine produced two legends, Midnight and his sister, Slumber.
Morse had won Best Brace at Westminster in 1908 and 1909. Slumber carried the Beaverbrook banner to Breed and Group wins in 1912 and '13. However, no one banked on 1914 when Slumber defied the odds to snatch Best In Show from Vickery Kennel's Fox Terrier.
It was a milestone for Sheepdogs, and the high point of Allon Morse's career. She personified James Dean's motto long before he was a blip on the radar. Her short, fast life ended a year later. Tyler Morse subsequently served as an AKC board member and officer of the Old English Sheepdog Club of America. He campaigned Slumber to Best of Breed at Westminster in 1916, Reserve BIS in 1917, and she became the first recipient of the Old English Sheepdog Club of America's silver Challenge Bowl.
Meanwhile, a new generation of Collie winners followed in the wake of Cragston and Greystone. Florence Ilch entered the game in 1919, acquiring her foundation stud, Starbat Strongheart two years later. He sired 23 champions and became the first of over 130 Bellhaven champions for her Redbank, New Jersey kennel. Bellhaven incorporated the best American and English lines, but her kennel manager was equally responsible for its 47 year winning streak. Mike Kennedy rose through the ranks at Collie strongholds like Greystone and Knockladye. It was no coincidence that Bellhaven winners were equally celebrated for style and soundness and their flawless condition and showmanship.
The burgeoning success of Collies and Sheepdogs hinted that Gundogs and Terriers no longer had an iron grip on the game, especially since another Herding breed was quickly claiming a piece of the action. In Europe, German Shepherds started trending in the 1890s, a time when the breed could fairly be called embryonic. Nonetheless, its versatility and broad appeal triggered rampant popularity. By 1912, it had strong support in Britain and began gaining traction in America. An American club was established in 1913 and the first AKC champions soon followed. Despite the obstacles posed by WWI, the first specialty in Greenwich, Connecticut was held on June 11, 1915 and drew an entry of 40. The next year it grew to 96.
Multiple factors argued against the German Shepherd's ongoing success. Along with post-war political prejudice, boatloads of overpriced, substandard imports arrived, which intensified the ongoing damage of fad breeding. The breed also endured AKC incompetence that qualified as a world record for bumbling mismanagement. Despite all that, it forged ahead because, by then, the breed was literally too big to fail. In many ways that stability was traceable to crucial kennels that emerged in the '20s, most notably Giralda Farms in Madison New Jersay, Cosalta Kennels in Greenwich, Connecticut, and Joselle in Elkins Park, Pennsylvania.
By 1924, when AKC first instituted formal Group and BIS judging, German Shepherds garnered all breed wins from coast to coast and produced the year's top dog, Ch. Dolf von Duesternbrook. Whelped in 1918, Dolf had been crowned 1919 Sieger in Germany and the 1920 Austrian Sieger when Widener imported him for a rumored price of $8000-$10,000 in 1920. It was a staggering sum, but money well spent. Dolf ranks among the most influential sires in the breed's history. His sensational career culminated in 1924 when he became the breed's first Westminster group winner, going on to Reserve Best In Show.
Geraldine Dodge founded her German Shepherd breeding program in 1923. Almost immediately Giralda Farms dominated America's show scene with knockout imports beginning with Ch. Teuthilde vom Hogenschiess, AKC's top winner for 1925 and '26. Dodge maintained that position in 1927 and '28 with another import, Ch. Cito Von Der Marktfeste.
Marie Leary finished her first Cosalta champion in 1927 and soon put a new twist on the game. Every Cosalta champion also earned titles in AKC's newest sport, obedience. Her first blockbuster was Am./Can. Ch. Anthony of Cosalta CDX. Sired by Sieger Utz v. Haus Schutting, he ended 1935 as the first recipient of AKC's newest award for the top American-bred winner in each group. Leary earned it again in 1937 with Am./Can. Ch. Hugo of Cosalta. In between, the 1936 Westminster Group went to another Giralda import, four-year-old Ch. Dewet ved Strarrenburg. He was shown 18 times between 1935-37, earning three consecutive Westminster Breeds, 12 Groups and 3 BIS. His daughter, Ch. Giralda's Geisha, became 1938's top American-bred Working dog.
Giralda and Cosalta were far from the only kennels that made German Shepherds a rising force in the game. However, the next Herding breed headliner was a Collie. By the 1920s, several significant breeding programs were contributing to the breed's preeminence, but Bellhaven topped the list. In 1926, Ilch had won her eighth Westminster breed and subsequently garnered the breed's first Westminster Group First with Ch. Laund Hero of Bellhaven. The following year, the Working Group went to another Collie, Southport Blue Knight.
Those wins paled in comparison to February 13th, 1929 when Laund Loyalty of Bellhaven came out of nowhere to become the youngest Best In Show winner in Westminster history. Ilch imported Loyalty in a package deal from breeder/judge William Stansfield. His Laund bloodline figured prominently in most successful American bloodlines. He also brokered top Collies for other British breeders. A month earlier, he had discovered Loyalty's littermate, Lucason of Ashtead, while judging the British Collie Club's Championship show. He took eight-month-old Lucason all the way to Best, immediately purchased his brother, and sold him to his best American client a few weeks later.
Loyalty descended from the best of Stansfield's breeding, but he was a raw pup without show experience or AKC registration when Ilch threw him in the Westminster Open class. The incredulous crowd watched him defeat 120 Collies featuring Westminster's usual number of headliners like the previous year's BOB winner, Ch. Laund Lindbergh of Bellhaven. According to Westminster historian William Stifel, his win may have also set the precedent for shocking Westminster upsets. "On the final day, when the Collie – who was then nine months old to the day – took Best in Show under Dr. Ford who had also judged the breed, the result was so unexpected that the crowd was rather taken aback. There was a momentary silence in the arena. It was not a popular win." It was also the start and finish of his career.
Ilch soon imported Loyalty's litter brother, Ch. Lucason of Ashtead O'Bellhaven. He went on to take Breed at Westminster for three consecutive years, but didn't make it out of Group in 1930. The Gazette's Westminster report said, "The shepherd, Giralda's Lola, was given an extremely hard battle in the working group. Her closest competitor was the exceptionally good Collie dog, Lucason of Ashtead O'Bellhaven." Lucason ranked among Bellhaven's biggest winners, siring 17 champions including Ch. Bellhaven Black Lucason who set new Group and BIS records with three consecutive Westminster Breeds, two enormous Breed wins at M &E, and the 1935 Westminster Group First. He also sired of 13 champions. Both of these Bellhaven stars contributed to key bloodlines of the 1930s like Hertzville.
Founded by Henry Hertz in 1907, this Chicago-based kennel was transferred to noted Collie authorities Chris Casselman and Thomas Halprin in 1920. Within a decade, Hertzville produced some of the breed's biggest winners and producers. Ch. Hertzville Headstone, a sable merle sired by top producer Lodestone Landmark, won multiple BIS, the 1938 Westminster group, and sired 10 champions. His sons, Historian and Headstudy, picked up where their sire left off. Concurrently campaigned throughout the Midwest, they racked up eight BIS wins within two years.
Leonard Collins also shook up the Working Group during those years. Collins got into Old English Sheepdogs around 1910 and devoted 25 years studying the breed before launching his Toronto-based breeding program. His first litter, sired by English import Moonbeam Weather, produced two dog pups. Ideal Weather, who eventually went to breeder/judge Rosalind Crafts, was handled by Al Loveridge to five group placements and his first BIS in 1936. His 1938 wins included both of the country's largest shows, International K.C. of Chicago in May and M & E a month later. Just for good measure, he picked up another Best the following day at Wissahickon.
He was not the only Sheepdog annihilating the competition during those years. Merridip, based in Great Barrington, Massachussetts, ranked among the most important kennels of the 20th century. Founded in 1925, Helen Lewis based her breeding program on top English bloodlines like Pastorale and Downderry. Her Merriedip dogs provided the foundation for countless successful lines and dominated the Working Group for decades. Some of her early chart toppers included the multiple BIS winners, Ch. Downderry Vanquisher, Ch. Merridip of Pastorale, and Ch. Merriedip Master Pantaloons, who started his reign with seven group placements in 1937 and went on to take the Westminster group in 1942. This was during the same period George Weissman campaigned Ch. Merridip Bob-A-Long to ten BIS wins in 1940 and '41.
Lewis also played a primary role in establishing the Pembroke in America. Corgis joined the Working Group in 1934 and were divided into Cardigan and Pembroke a year later. By then, Merridip's Pembroke import, Rozavel Rufus of Merridip, had earned his CD and two group placements.
Even though the Working Group became progressively more unmanageable as AKC added breeds throughout the 1930s, big winners kept rising through these crowded ranks. The magnitude of their success came into sharp focus after the introduction of the Phillips rating system in the mid 1950s.
Traditional Working Group favorites continued to yield headliners. In 1958, the big news in the Collie world was Ch. Fancy Hi Honeybrook. Handled by Frank Ashbey, he ended the year with two Best In Shows and 17 groups, to rank #8 amongst all breeds.
A couple of years earlier, Mona Berkowitz appeared on the scene. A second generation breeder, she first made her mark in 1939, handling her first Sheepdog champion to Best Junior at Westminster. She registered her Momarv prefix in 1950 and owner/handled a record number of winners for two decades, beginning with Ch. Merridip Duke George, the last and greatest Merridip winner, campaigned from 1956-1959.
Whelped in 1952, he was a double descendent of two of the most famous Merriedip dogs, Ch. Merridip Master Pantaloons and Ch. Merridip of Pastorale. In 1955, Berkowitz handled him to BOW at Westminster and the OESC National Specialty. In 1956, he won his first of three consecutive national specialties and first of four consecutive Westminster BOB wins, ending the year ranked ninth overall. He was Group Second at Westminster in 1957 and '58, and third in '59. A Top Ten Working Dog from 1956 to '58, he topped the Working Group in 1957, and placed third in the all breed rankings, with 27 groups and eight Bests that year. In total, he earned 52 groups and 15 BIS. In 1958, she brought out George's son, Ch. Momarv's Hi Wide and Handsome, who went BOW at the 1957 national and became the only OES other than his sire to win more than two groups in 1958. In 1962, her import, Ch. Shepton Surprise, earned the Kennel Review Working Group award, and Berkowitz was named best amateur female handler of the year.
Mormarv wasn't the only kennel launching this endless onslaught of Sheepdog winners throughout the '60s. Handled by Bob Forsyth, Ch. Fezziwig Ceiling Zero became the first van Rensselaer top winner. A top ten Working dog from 1959-1963, he ended 1963 in fifth place in the all breed ratings, and went on to sire 32 champions. He was followed by Ch. Fezziwig Raggedy Andy, who ended 1964 and '65 number five in the all breed rankings, and spiked to second in 1966 with 11 Best In Shows and his first of two Westminster group wins.
In 1968, Forsyth brought out Ch. Prince Andrew of Sherline. He ended the year as the Top Working Dog and #3 all breeds, and kicked off 1969 winning the group at Westminster. He ended 1970 ranked fourth overall and the number three Working dog. This Sheepdog winning streak culminated in 1975 when Ch. Sir Lancelot of Barvan became the second Best In Show Old English Sheepdog in Westminster history. Ch. Loyalblu Hendihop was next aboard this crazy train, finishing 1976 ranked second overall and winning the Westminster Working Group in 1977.
Popular wisdom maintained that smaller breeds faced an insurmountable disadvantage as Working Group contenders. That misconception faded as they began adding their share of top dogs to the fray. Pembrokes came to the forefront in 1959 when Stephen Shaw handled Ch. Cote de Neige Sundew to number six amongst all breeds. He started 1960 with a bang, winning the group at Westminster, but his son, Ch. Willets Red Jacket, soon stole the spotlight, finishing 1961 in fifth place overall, and ratcheting that up to second the next year. Both father and son also excelled as producers, siring 15 and 10 champions respectively.
And to confirm that size isn't everything, Ch. Elf Dale Viking vaulted into the top ten amongst all breeds in 1963, becoming one of the biggest winners in Sheltie history. In 1964 he nudged his ranking amongst all breeds from fifth to third overall, and held onto it for 1965. He subsequently sired 13 champions and earned several big wins as a veteran, although Ch. Windrush O'Page's Hill remained the breed's only Westminster group winner.
Over time, more Herding dogs began breaking into the top ten. The Bouvier import, Ch. Taqui du Posty Arlequin Bel finished 1976 as number three overall with 18 Best In Shows. Ch. Beaucrest Ruffian soon added another star to Bouvier accomplishments, breaking into the top five of all breeds for 1981-82. Arguably, the growing size of this group imposed an extra level of quality control. Simply making it to the last round of competition implied that a Working dog was damn good. But as they appropriated a larger share of the spotlight, this gigantic competitive force began to seem like T Rex stomping around shows. Rumors and discussions about splitting the group spiked in the 1970s as Working breeds consistently dominated all breed ratings.
This culminated in the big divide, which was approved in March 1982 and went into effect in 1983. Contenders throughout the dog world may have hoped that this would become an opportunity to divide and conquer as 15 breeds were shifted into the newly-created Herding Group. Rather than diluting the competitive advantage of Working and Herding breeds, the new group alignment doubled their opportunities to vie for BIS. Nothing confirmed this better than the dominance of German Shepherds.
In the 1970s, a tidal wave of German Shepherds began monopolizing the ring from coast to coast. Ch. Lakeside's Gilligan's Island racked up 21 Bests to end 1971 second overall. That year was especially notable with Working breeds finishing in four of the five top spots. The next year, they had three of the top five placements. Ch. Lakeside's Gilligan's Island held onto third with another 14 BIS wins and got some company. Ch. Val-Koa's Roon picked up seven Bests to end the year fourth overall. Immediately preceding "the Great Divide" Ch. Beech Hill's Benji V Masco won the Westminster group and slotted into third place in the 1982 all breed rankings.
The AKC Centennial, held November 17 and 18, 1984 put an exclamation on the dominance of this group. Its entry of 8000 made it the biggest show ever held in America. With the combined entries of companion events, it became the biggest show in history. Ch. Covy Tucker Hills Manhattan topped an entry of 546 from 15 breeds in the brand new Herding Group. He didn't need to battle through 1117 entries from the 19 breeds remaining in the Working Group to capture the biggest win of the decade. He continued to break records for the next three years, retiring after his 1987 Westminster BIS, his 201st Best.
To Canine Chronicle readers:
I strive for historical accuracy in these articles, but I am not perfect (far from it). I extend my apology to OHA founding member Pat Cruz, who I inadvertently omitted from my overview of that club's history.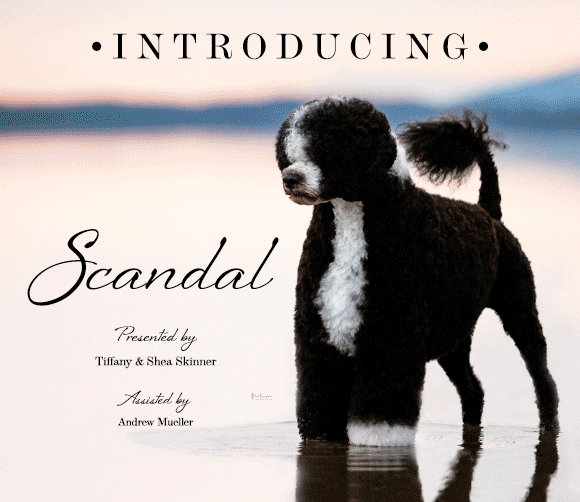 Short URL: https://caninechronicle.com/?p=259343
Posted by
Liz Powell
on Mar 25 2023. Filed under
Current Articles
,
Featured
. You can follow any responses to this entry through the
RSS 2.0
. Both comments and pings are currently closed.