Everything You Need To Know About the All-Breed & Breed Stats
Stats, statistics, or rankings–whatever you want to call them–tend to create excitement and anxiety for those in our sport. Exhibitors, owners, breeders and handlers attempt to calculate points every month. They keep spread sheets, notes, and check for updates to their dog's record. In the end, they wait at the computer around the middle of each month waiting for the new stats to post.
So, let's talk about the All-Breed & Breed stats today.
Do you know where these stats come from & who calculates them?
Well, I am going to tell you…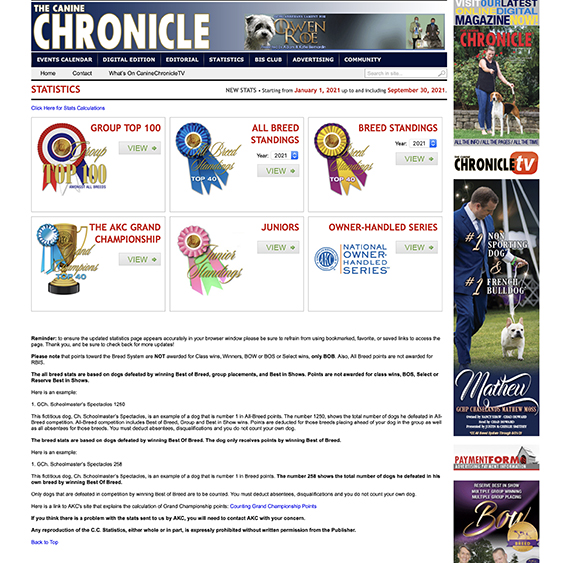 All AKC dog shows are required submit the results directly to the AKC in a timely manner. AKC, in turn, tabulates this data.
The Canine Chronicle purchases the data directly from AKC and uses it to create the statistics for their system. The Canine Chronicle includes the All-Breed Points & the Breed Points and they have been calculated the same way for over 50 years.
The Canine Chronicle's All Breed System is based on dogs defeated by winning Best Of Breed, Group Placements, and Best In Shows. All Breed Points ARE NOT awarded for class wins, BOS, Select or Reserve Best In Show.
The Canine Chronicle's Breed System is based on the number of dogs defeated by winning Best Of Breed ONLY. Class wins, Winners, BOW, BOS & Select wins, DO NOT earn Breed Points.
Now, it is important to remember that demographics will play a part in this system. If your region does not have many dogs of your breed, what are the chances you will be #1 in the Breed system? You might have lots of Best Of Breed wins and opportunities for group placements but not many Breed points.
What if you have lots of breed competition in your area but your average group looks like a Westminster line-up? Lots of Breed Points to be had but not so many All-Breed points. Frustrating, I am sure, but it's part of the game.
So, you might ask which system is the Real #1 and which one is more important?
All Breed or Breed?
The only system that matters is the one that matters to YOU, and that would be the one that is obtainable by you and your dog.
#1 is #1… one system does not outweigh the other. As long as you reference it at the bottom of the page in your advertising.
One more thing… the next time you see the stats and you think the numbers are incorrect, realize that all the calculations are done by the American Kennel Club using the data that clubs submit to them. If a club does not submit results on time, the data will be askew. If the judge marks his book wrong, then the data will be wrong.
Here's a tip from an old pro. Remember to check the tear sheets for accuracy before you leave the show, and check the AKC website often for any shows that have not been processed.
Good Luck and Happy Counting!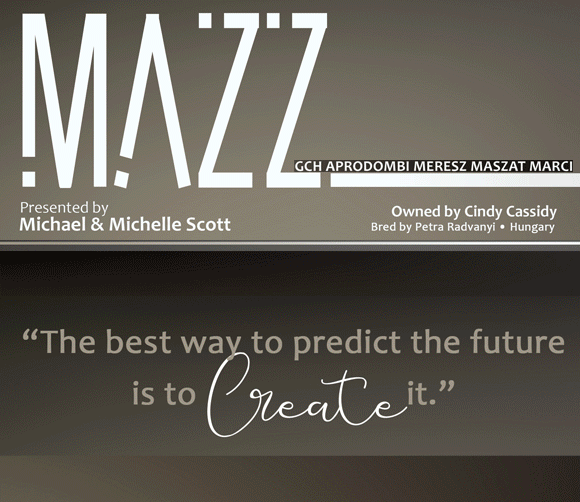 Short URL: https://caninechronicle.com/?p=216020
Posted by
Jane Alston-Myers
on Jan 11 2022. Filed under
Current Articles
,
Featured
. You can follow any responses to this entry through the
RSS 2.0
. Both comments and pings are currently closed.