Potomac Hound Club #1 – Friday, January 27, 2023
Show Name: Potomac Hound Club
Location: Richmond, VA
Show Date: Friday, January 27, 2023
Total Entry: 344
Show Photographer(s):
John Ashbey • Website: johnashbey.com
Hound Judge's Name: Dr. Donald Sturz Jr.
Total Entry: 344
#1-
Dog Reg: GCH Kiarrys Gotta Have Faith [Bitch]
Breed: American Foxhound
Handler: Lisa Miller
Owner: E Charles & L Miller
#2-
Dog Reg: GCH Monocacy Bends Lady Of The Chase [Bitch]
Breed: English Foxhound
Handler: Adam Bernardin
Owner: S Nordstrom & T Koerber
Breeder: Toni Koerber
#3-
Dog Reg: CH Alegnas What It Is Now MW [Dog]
Breed: Dachshund (Wirehaired)
Handler: Angela Lloyd
Owner: A Lloyd & Flor Nevarez
#4-
Dog Reg: GCHS Adili & Idabs Reign On Zambezi [Dog]
Breed: Rhodesian Ridgeback
Handler: Michelle Scott
Owner: K Courtelis, T Lynch, L Graham & M Turpin-Harrell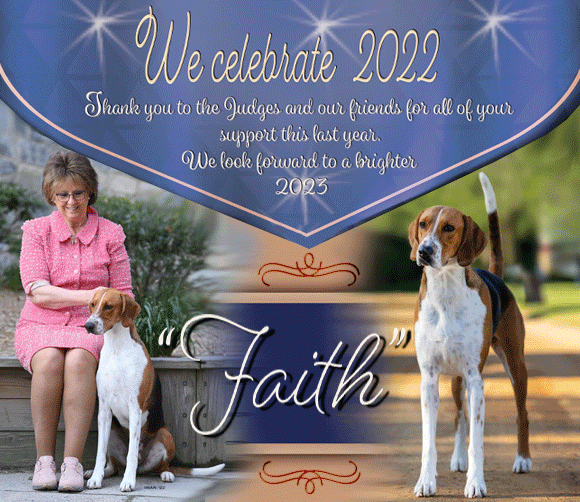 ---
Please note these results are not official and may be subject to change once official results are submitted to AKC.
The Canine Chronicle is not responsible for any errors or inadvertent omissions in the information reported on this site.
All information on www.caninechronicle.com is the sole property of The Canine Chronicle and Endeavor Publications, Inc. Reproduction of contents,either whole or in part is not permitted without consent of the publisher.
Short URL: http://caninechronicle.com/?p=255872
Posted by
Liz Powell
on Jan 27 2023. Filed under
Specialty & Group Show Results
. You can follow any responses to this entry through the
RSS 2.0
. Both comments and pings are currently closed.