When The Past Comes Knocking
Click here to read the complete article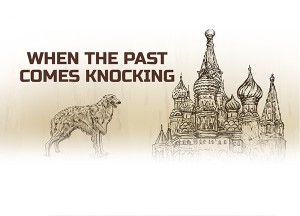 By Jane Myers
In reading the following 1933 AKC Gazette article written by the renowned Russian Wolfhound owner, breeder, exhibitor, and judge, Mr. Louis Murr, (https://www.akc.org/expert-advice/news/the-tsar-of-spring-valley) I think many of the same observations and trends are true today. Even back in the day, as Mr. Murr reported, breeders greatly anticipated getting their young stock out, finding that puppy that will make your heart skip a beat and set the ring on fire. And almost 90 years later we continue to have the same concerns for the new exhibitor. Even back then, Mr. Murr encouraged the veteran exhibitor to welcome new exhibitors and treat them well.
Russian Wolfhounds
(Excerpt from a 1933 AKC Gazette by Louis Murr)
"Some breeders enjoy heaping up wins upon one or two of their old dogs–and all of us own one or more of these veterans that we feel a bit safer to win with than with the youngsters–but for the most part, I believe all breeders get the biggest thrill out of seeing a young dog they have bred and raised to the age where they are eligible to compete in license shows, go to winners or even get a blue ribbon in competition.
"Personally, it would be too monotonous for me, year-in and year-out, to show one or two dogs, and if these dogs are shown for points, it oftentimes discourages the breeder who longs to own a champion. There have been ever so many young dogs, or new dogs, brought out this year, and it makes dog showing far more interesting than to know, as often has been the case, that in a show, in a certain locality or under a particular judge, will have but one old-timer supporting him.
"True, our breed does not reach maturity until two or three years old, but is there anything more interesting than the "pettiskirt" age? You know, when the puppies reach 6, 8, 10 months old, and are feathered out with bushy pettiskirts and in a full bloom puppy coat. Sometimes we dread taking these youngsters to two- and three-day indoor shows, but surely the Fall and Spring shows afford many opportunities to exhibit them.
Short URL: http://caninechronicle.com/?p=216113
Posted by
Jane Alston-Myers
on Nov 27 2021. Filed under
Current Articles
,
Featured
. You can follow any responses to this entry through the
RSS 2.0
. Both comments and pings are currently closed.