Remembering Barbara Humphries Gossett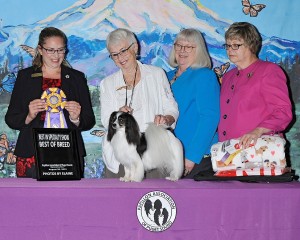 April 18, 1937 – September 27, 2023
Written By: Andrea Meloon
This is a memorial for Barbara Gossett, an amazing woman, who remained passionate in her love of dogs and the sport of purebred dogs for over 65 years.
I first met Barbara in 2004 after getting my first Papillon dog. I actually was downsizing to a toy breed having been a breeder of Akitas for over 20 years.  I never had an Akita growl at a judge. However, the first time I put my Papillon dog on the table for Eugene Blake to examine – he growled at him.  I thought, oh maybe he didn't hear him, but he did.  He looked right at Cooper and said, "You are awfully cute but I can't put you up growling at a judge." I apologized and explained that I only had him for a week and he had gotten very attached to me.  As I walked out of the ring, I was told to talk to the Papillon lady, Barbara Humphries Gossett. We have been friends ever since!
Barbara wanted one more special in her career; we had purchased a Phalene we had hoped would be that special. With some doubt, she took on the challenge of showing him. Within two years, he became #5 Breed & All Breed Papillon for 2021. We had such great times; we enjoyed sharing means and a few glasses of wine. We talked dogs all the time. It wasn't until she asked me to be her medical POA that I learned of her inoperable brain tumor. Along with my two dear friends, Cheryl Maass and Susan Swan, we helped Barbara make the move from California to Arizona to be closer to all of us.  It was during that time, we found out more about her amazing career in dogs. Barbara never turned down an opportunity to travel; she traveled all over the world! She visited more than twelve countries; Asia was her favorite destination. Barbara especially loved the Crufts Dog Show experience.
While cleaning out one of Barbara's closets at home, I found boxes – many boxes of dog photos.  She had a few dog paintings and prints on her walls in her home but never a wall depicting all of her wins. I came across an old newspaper article entitled, "Last Year's Winner Retired."  In my research, I found the excerpt below written by Pat Gleeson and printed on February 14, 1977 in the New York Times.
"Barbara Humphries of Alpine, California, the handler who won the Non-Sporting Group at Westminster in 1976 with CH Montmartre Super Lad, a black Miniature Poodle, said Super Lad was retired last spring as an English, Bermudian, Mexican, and American Champion with many groups and several Bests in Show. Miss Humphries was grooming a Toy apricot Poodle called Toby and said she expected to spend the entire day grooming. 'I'm awfully glad the weather is better than it was two weeks ago. It's certainly nice now but I actually think we brought it from California."
Barbara loved California and loved her husband Dave Gossett, the love of her life. 
Barbara never talked about all her accomplishments, wins, Best In Shows, or honors. She just wanted to be Barbara; she didn't want anyone to fuss over her. Don't get me wrong, she loved others to cook for her and enjoyed dining out at a restaurant. That was the only time we could fuss over her.
Quaker Oats named Barbara Handler of the Year in 1975 from the Non-Sporting Group for her incredible year winning 70 Group First wins with beautiful black Miniature Poodle, CH Montmartre Super Lad, owned by Mrs. R.F. Tranchin. She not only received this award at the annual 1976 Ken-L Ration Award dinner held in the Empire State Ballroom at the Grand Hyatt New York Hotel, she was also awarded Best Of Breed with Super Lad under Mr. Ed Bivin over 24 other Minis. Super Lad and Barbara went on to win the Non-Sporting Group at the 1976 Westminster Kennel Club Dog Show!
In 1984, Dorothy Hagemen became a Co-owner of CH Bar King's Scintilla, "Scin." Barbara handled Scin to the top winning Non-Sporting dog in 1985. Again, Barbara Humphries was awarded Handler Of The Year from the Non-Sporting Group and received her second Ken-L Ration Award on February 8, 1986 in the Empire State Ballroom at the Grand Hyatt New York Hotel. The photo below depicts: Kathy Poe, Scin's Breeder, actress Jennifer O'Neill, the guest speaker, Dorothy Hageman, Scin's Owner, Barbara Humphries, Scin's Handler, and Thomas Rohr, Ken-L Ration Professional Sales Manager on the night of the 31st Annual Ken-L Ration Awards Dinner.
In 1987, Barbara showed CH Bar King's Scintilla at the Poodle Club of America National Specialty where Scin was awarded Best of Breed under Breeder Judge Anne Rogers Clark. Ms. Clark later wrote for the Poodle Variety Magazine, August-September 1987, Poodle Club of America Issue: "The Miniature Bitch, Ch. Bar King's Scintilla, was well up for the win. She was mature, honest, glamorous and in the peak of physical and mental condition. She was and is one of the most correct Poodles being shown today in my opinion…"
Barbara handled CH Bar King's Scintilla to 80 Group First wins to earn Barbara, Handler Of The Year for the third time. She received this prestigious award from Dogdom Handler Of The Year presented by the Gaines Dog Care Center.
In 1994, at the age of 12, CH Bar King's Scintilla won the Poodle Club of America National Specialty again as a Veteran under Judge William Trainor. That year, she defeated twenty-six veterans alone earning the chance to compete for Best of Breed.
There are countless stories and wins, multiple Breed wins, Best In Specialty Show wins, and National Specialty wins Barbara accomplished over her career. Of course, my favorites were with our own Papillon (Phalene), GCHS CH La Ren Jasper In Moonlight, earning four Best In Specialty Show wins and finishing 2021 as a Top 5 Breed & All Breed Papillon. His Top 5 Breed ranking earned him an invitation to the 2022 Westminster Kennel Club Dog show. What an honor for us! One photo below depicts Barbara's love for the sport of purebred dogs after her long career as a professional handler. Taken by Curtiss Smith, it shows Barbara and Jasper being awarded a Group First. That day, I was working at the hospital and could not attend the dog show. When Barbara called me to share the results, I purchased a big dinner and drove to the Arizona Fairgrounds in Phoenix at 8:30 pm after working all day at the hospital. We had a wonderful celebration dinner with Barbara and Jasper.  Barbara's was the only RV in the parking lot! Watching Barbara and Jasper in the ring was poetry in motion. We thank Barbara for the fabulous ride her and Jasper took us on in 2021.
Barbara, we thank you for your expertise in showing and caring for the dogs over the years but most importantly for your friendship and the grace you have always shown to so many people. Looking back at all the fabulous dog photos of you from 1957 through 2022, your love of the sport is ever present throughout your 65-year career. It shows more than you know! Just holding a dog in your lap brings a smile to your face and to your heart.
In her last few months, because of Barbara's medical condition and pressure on the brain, speaking normally was a rarity. Despite that, when my two dear friends and I went to visit Barbara at the Care Facility, she looked right at us as we were walking in her room and said, "Well, who won Best In Show?" Barbara was a true dog person to the very end. She was a very dear friend to many who had the pleasure of knowing her. Handlers, judges, and many of her friends were clients with 60+ year friendships. It has been a privilege to know Barbara and call her my friend. I know her friends would say," It has been a wonderful "Dog Show Circuit of Life."
We Love You Barbara!
Short URL: http://caninechronicle.com/?p=273191
Posted by
Gia
on Sep 27 2023. Filed under
Breaking News
,
Featured
,
World News
. You can follow any responses to this entry through the
RSS 2.0
. Both comments and pings are currently closed.