Manatee Kennel Club, Inc. — Monday January 10, 2022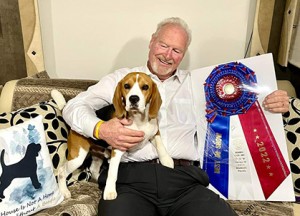 Show Name: Manatee Kennel Club, Inc.
Location: Brooksville, FL
Show Date: Monday, January 10, 2022
Total Entry: 1800
Best In Show Judge: Mrs. Wendy G. Willhauck
Show Photographer(s):
Don Meyer • Email: BillMeyerPhoto@gmail.com
Dog Reg: GCHG Kazuris All I Want for Christmas [Dog]
Breed: Beagle 15 inch
Handler: Michael Kurtzner
Owner: Sarah Sweetman & Michael & Karen Kurtzner
Reserve Dog Reg: Fox Canyons I Won The War At Goldshield [Dog]
Reserve Breed: French Bulldog
Reserve Handler: Perry Payson
Reserve Owner: S & M Fox, P Payson & A Vorbeck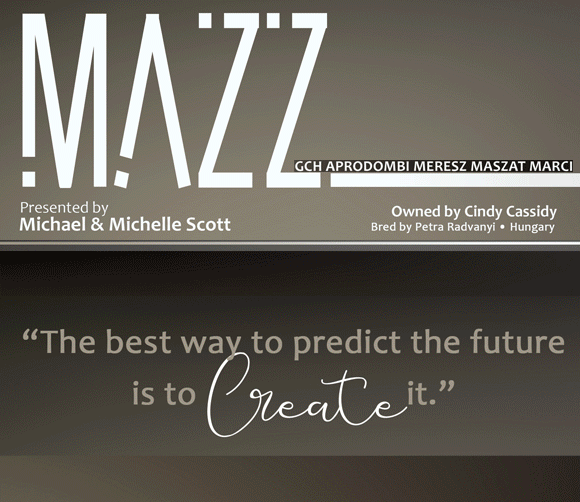 Sporting Judge's Name: Mrs. Linda Hurlebaus
Total Entry: 293
#1-
Dog Reg: GCHB Pooles Ide Sergeant Sloane [Dog]
Breed: Spaniel (Irish Water)
Handler: Joanne Thibault
Owner: Stephanie O'Reilly & Gregory M Siner
#2-
Dog Reg: GCHS Kan Trace Very Cheeky Chic [Bitch]
Breed: Lagotti
Handler: Phil Booth
Owner: V Malzoni Jr., S Zdunic Sinkovic & A Lucin
Breeder: S Zdunic Sinkovic
#3-
Dog Reg: GCHG Brigadier Shamrock All Silver Stars [Dog]
Breed: Brittany
Handler: Diego Garcia
Owner: Julie & Mike Lee, Beth Rosener & Jaime Cox
#4-
Dog Reg: GCH Cajun & Rainsways America Runs On Dunkin [Dog]
Breed: Spaniel (Clumber)
Handler: Ashlie Whitmore
Owner: P Holman & M Cole
Hound Judge's Name: Mrs. Barbara Dempsey Alderman
Total Entry: 210
#1-
Dog Reg: GCHG Kazuris All I Want for Christmas [Dog]
Breed: Beagle 15 inch
Handler: Michael Kurtzner
Owner: Sarah Sweetman & Michael & Karen Kurtzner
#2-
Dog Reg: GCH Monocacy Bends Lady of the Chase [Bitch]
Breed: English Foxhound
Handler: Katie Bernardin
Owner: Toni Koerber & Sandra Nordstrom
Breeder: Toni Koerber
#3-
Dog Reg: GCHS Harehills I Insist [Bitch]
Breed: Ibizan Hound
Handler: Phil Booth
Owner: Bradley Phifer
#4-
Dog Reg: Tahkira Macchiato [Dog]
Breed: Afghan Hound
Handler:
Owner: R & I Gano
Breeder: Birgit Ferguson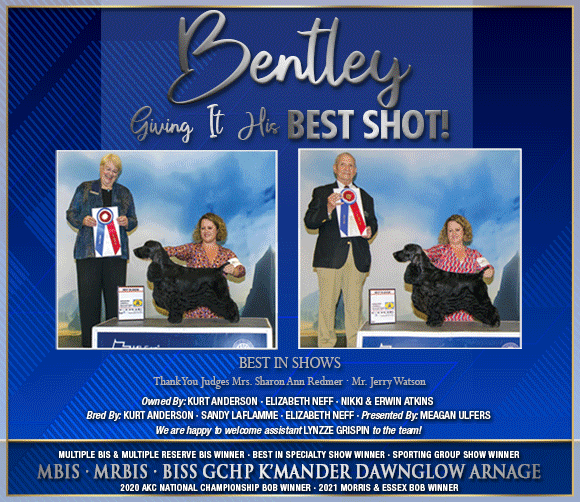 Working Judge's Name: Mr. Lloyd Amodei
Total Entry: 328
#1-
Dog Reg: GCHG Pouch Coves Alright Alright Alright [Dog]
Breed: Newfoundland
Handler: Karen Mammano
Owner: K Mallinson & P Helming
Breeder: Peggy Helming
#2-
Dog Reg: GCHP Far Away Black Star CGC [Dog]
Breed: Portuguese Water Dog
Handler: Kimberly Calvacca
Owner: L Taft
Breeder: Laura Taft
#3-
Dog Reg: GCHG Lagniappes From The Mountains To The Bayou [Dog]
Breed: Giant Schnauzer
Handler: Alfonso Escobedo
Owner: H & C Reed & L & M Mason
Breeder: Chris & Holly Reed, Maryann Bisceglia & Mike Reese
#4-
Dog Reg: GCHB Highlanders Snow Pilot [Dog]
Breed: Siberian Husky
Handler:
Owner: Anne & Brian Palmer
Terrier Judge's Name: Roberto Velez-Pico
Total Entry: 225
#1-
Dog Reg: GCH Vision of Vertragus [Dog]
Breed: West Highland White Terrier
Handler: Rebecca Cross
Owner: Paulina & Justyna Skrobiszewska & Dr. Fred Askin
#2-
Dog Reg: GCH Goodspice Efbe Money Stache [Dog]
Breed: Terrier Group
Handler: Margery Good
Owner: Margery Good, France Bergeron, Emily Bennett & Lucy Spiegel
#3-
Dog Reg: GCH Brightlucks Image at Bayleig [Dog]
Breed: Welsh Terrier
Handler: Tracy Ann Szaras
Owner: Keith Bailey & Mark Riddoch
#4-
Dog Reg: GCH Singing Hills They Call The Win Moriah Owagginaire [Bitch]
Breed: Airedale Terrier
Handler: Leonardo Garcini
Owner: Bruce & Caron Jones & Dorothy Boeing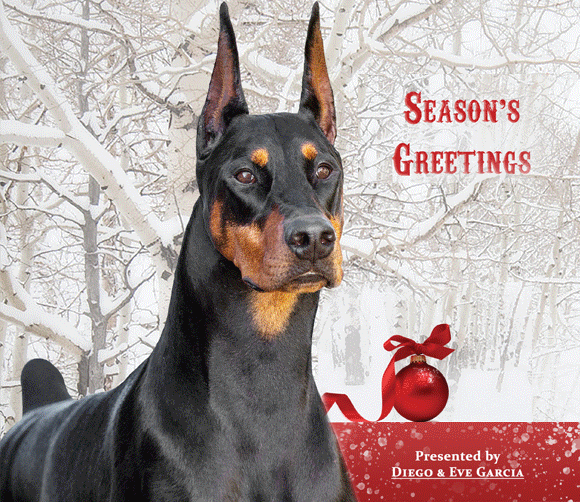 Toy Judge's Name: Mrs. Linda Hurlebaus
Total Entry: 257
#1-
Dog Reg: GCHG Tamarin Tattoo [Dog]
Breed: Affenpinscher
Handler: Alfonso Escobedo
Owner: Laura McIngvale Brown & Doyle Girouard
#2-
Dog Reg: GCHS Kolmars + Los Feliz The Man Of Steel [Dog]
Breed: Havanese
Handler: Tara Martin Rowell
Owner: A Stevenson & L Soars
Breeder: Mark W Kolbe
#3-
Dog Reg: GCHG Winggsong This Could Be Love [Dog]
Breed: Papillon
Handler: Chris Jones
Owner: Pat Jones & Chris Jones
#4-
Dog Reg: GCHG Rustic Lane Not My Planet From Fwaggle @ Absolutions [Dog]
Breed: Toy Manchester Terrier
Handler: Ellen Perry
Owner: D Young & D Horowitz
Breeder: Carolyn Horowitz & Wendy & Amanda Kelly
Non-Sporting Judge's Name: Mr. Dana P. Cline
Total Entry: 216
#1-
Dog Reg: GCHG Fox Canyons I Won The War At Goldshield [Dog]
Breed: French Bulldog
Handler: Perry Payson
Owner: S & M Fox, P Payson & A Vorbeck
#2-
Dog Reg: CH Bright Lights Rocyns 24K Magic [Bitch]
Breed: Bulldog
Handler: Eduardo Paris
Owner: Kara Gordon, Joan Fisher & Eduardo Paris
#3-
Dog Reg: GCHG Dawin Hearts Desire [Bitch]
Breed: Poodle (Standard)
Handler: Sarah Perchick
Owner: L Campbell
Breeder: Linda C Campbell
#4-
Dog Reg: GCHB Sonadora Del Rey [Bitch]
Breed: Xoloitzcuintli
Handler: Erika Lanasa
Owner: R Yenchesky, R Lauck, C Bossart & E Lanasa
Herding Judge's Name: Mr. Raymond V. Filburn Jr.
Total Entry: 248
#1-
Dog Reg: GCHG Gem-N-I River Of Urloved CGC [Dog]
Breed: German Shepherd Dog
Handler: Lenny Brown
Owner: R Waits
Breeder: Mary Lee Jewell, Rick Waits & Barbara Stamper
#2-
Dog Reg: GCHS Aprodombi Meresz Maszat Marci [Dog]
Breed: Pumik
Handler: Michelle Scott
Owner: Cindy Cassidy
#3-
Dog Reg: GCHB Double Ds Magical Mystery Tour [Dog]
Breed: Berger Picard
Handler: Amy Booth
Owner: B Hainline, D Donohue, B Green & C Brooks
Breeder: Deanna & Rick Donohue & Billie Green
#4-
Dog Reg: CH Bayshore Stonehaven Dust Bunny [Bitch]
Breed: Australian Shepherd
Handler: Jamie Clute
Owner: Jeffrey Margeson & John Dale-Margeson & J Frank Baylis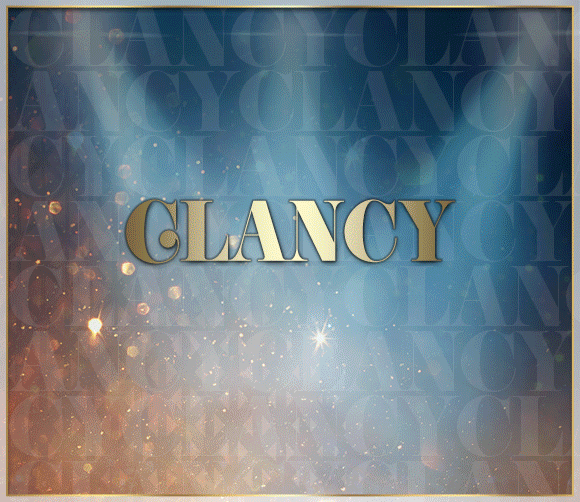 ---
Please note these results are not official and may be subject to change once official results are submitted to AKC.
The Canine Chronicle is not responsible for any errors or inadvertent omissions in the information reported on this site.
All information on www.caninechronicle.com is the sole property of The Canine Chronicle and Endeavor Publications, Inc. Reproduction of contents,either whole or in part is not permitted without consent of the publisher.
Short URL: https://caninechronicle.com/?p=221691
Posted by
Deb
on Jan 10 2022. Filed under
All Breed Show Results
. You can follow any responses to this entry through the
RSS 2.0
. Both comments and pings are currently closed.