Tampa Bay Kennel Club – Sunday, January 9, 2022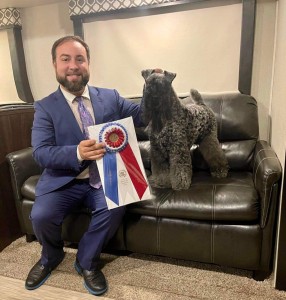 Show Name: Tampa Bay Kennel Club
Location: Brooksville, FL
Show Date: Sunday, January 9, 2022
Total Entry: 2139
Best In Show Judge: Mrs. Barbara Dempsey Alderman
Show Photographer(s):
Don Meyer • Email: BillMeyerPhoto@gmail.com
Dog Reg: GCHS Bluecrush Freedom And Whiskey! [Dog]
Breed: Kerry Blue Terrier
Handler: Blake Hansen
Owner: E Hart Hansen
Breeder: Eva M Hart-Hansen
Reserve Dog Reg: GCH Bright Lights Rocyns 24 K Magic [Dog]
Reserve Breed: Bulldog
Reserve Handler: Eduardo Paris
Reserve Owner: Kara Gordon, Joan Fisher & Eduardo Paris
NOHS Best In Show Judge: Mrs. Molly Martin
NOHS Dog Reg: GCH DC Baha Bahrain Storm MC [Dog]
NOHS Breed: Saluki
NOHS Owner: C Coile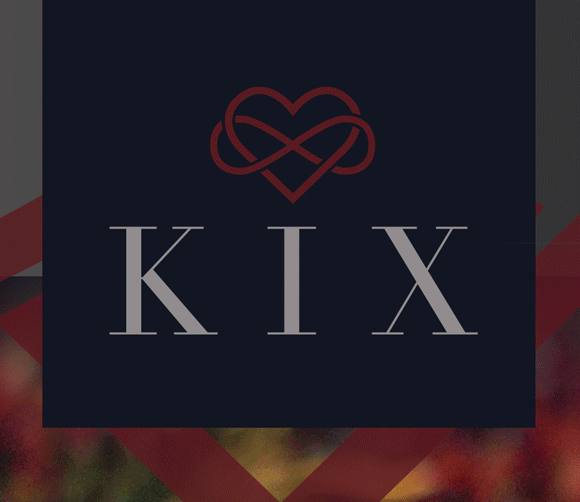 Sporting Judge's Name: Dr. Steve Keating
Total Entry: 363
#1-
Dog Reg: GCHS Kan Trace Very Cheeky Chic [Bitch]
Breed: Lagotti
Handler: Phil Booth
Owner: V Malzoni Jr., S Zdunic Sinkovic & A Lucin
Breeder: S Zdunic Sinkovic
#2-
Dog Reg: GCH Cheswynds Girl with the Far Away Eyes [Bitch]
Breed: Vizsla
Handler: Janice Granda
Owner: Nicole Dussault, Laurel Medley, Deby Broussard & Bonnie Hill
#3-
Dog Reg: Double Ds Never Have I Ever [Dog]
Breed: Pointer (German Wirehaired)
Handler:
Owner: Billie E Green, Deanna Donohue, Joyce Wilkinson & Juliana Esquivel Echandi
#4-
Dog Reg: GCHG Brigadier Shamrock All Silver Stars [Dog]
Breed: Brittany
Handler: Diego Garcia
Owner: Julie & Mike Lee, Beth Rosener & Jaime Cox
Hound Judge's Name: Mrs. Molly Martin
Total Entry: 276
#1-
Dog Reg: GCH Monocacy Bends Lady of the Chase [Bitch]
Breed: English Foxhound
Handler: Katie Bernardin
Owner: Toni Koerber & Sandra Nordstrom
#2-
Dog Reg: GCH Lost Heritage Knight of Eldorado [Dog]
Breed: Treeing Walker Coonhound
Handler: Cole Vanover
Owner: C Vanover, K Lawless & S Hickman
#3-
Dog Reg: GCHG Kazuris All I Want for Christmas [Dog]
Breed: Beagle 15 inch
Handler:
Owner: Sarah Sweetman & Michael & Karen Kurtzner
#4-
Dog Reg: GCHP Leoralees Lets Boogie With Barstool Mw [Dog]
Breed: Dachshund (Wirehaired)
Handler: Marietta Singleton
Owner: R Addison, M Singleton & M Tipple
Breeder: Robbie Addison & Marietta Singleton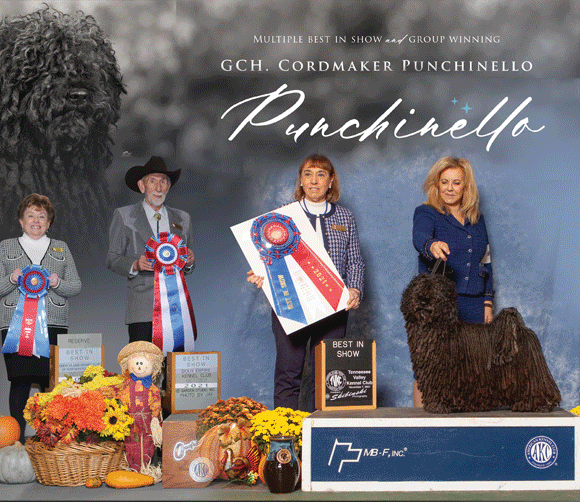 Working Judge's Name: Mr. John Constantine
Total Entry: 370
#1-
Dog Reg: GCHP Far Away Black Star CGC [Dog]
Breed: Portuguese Water Dog
Handler: Kimberly Calvacca
Owner: L Taft
Breeder: Laura Taft
#2-
Dog Reg: GCHG Southports Aries God of War [Dog]
Breed: Mastiff
Handler: Terry Smith
Owner: Alix Sanchez
#3-
Dog Reg: GCHG Lagniappes From The Mountains To The Bayou [Dog]
Breed: Giant Schnauzer
Handler: Alfonso Escobedo
Owner: H & C Reed & L & M Mason
Breeder: Chris & Holly Reed, Maryann Bisceglia & Mike Reese
#4-
Dog Reg: GCHB Highlanders Snow Pilot [Dog]
Breed: Siberian Husky
Handler:
Owner: Anne & Brian Palmer
Terrier Judge's Name: Mr. Dana P. Cline
Total Entry: 270
#1-
Dog Reg: GCHS Bluecrush Freedom And Whiskey! [Dog]
Breed: Kerry Blue Terrier
Handler: Blake Hansen
Owner: E Hart Hansen
Breeder: Eva M Hart-Hansen
#2-
Dog Reg: GCHS Peabar P.S. I Love You [Bitch]
Breed: Scottish Terrier
Handler: Ania Kelly
Owner: Karen Lynn, Masa Siroka, Peggy Browne & Deborah Brower
#3-
Dog Reg: GCH Bruhils Thorny Rose [Bitch]
Breed: Welsh Terrier
Handler: Adam Bernardin
Owner: Bruce Schwartz
#4-
Dog Reg: GCH Pinnacle Broxden Lickety Split [Dog]
Breed: Smooth Fox Terrier
Handler: Amy Booth
Owner: S & A Fitzpatrick, M & B Hainline & A & P Booth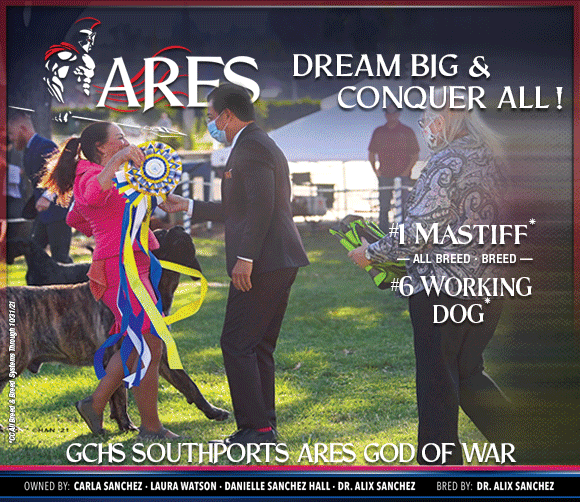 Toy Judge's Name: Mr. Brian Meyer
Total Entry: 292
#1-
Dog Reg: GCHG Tamarin Tatoo [Dog]
Breed: Affenpinscher
Handler: Alfonso Escobedo
Owner: Laura McIngvale Brown & Doyle Girouard
#2-
Dog Reg: GCHG Kolmars & Los Feliz The Man of Steel [Dog]
Breed: Havanese
Handler: Tara Martin Rowell
Owner: Anne Stevenson, Nancy Brown, Gary Brown & Lisa Soars
#3-
Dog Reg: GCHS Wingssong This Could Be Love [Dog]
Breed: Papillon
Handler: Chris Jones
Owner: P & C Jones
Breeder: Pat & Chris Jones
#4-
Dog Reg: GCH Pomsadmirers Premium Jaguar Edition [Dog]
Breed: Pomeranian
Handler:
Owner: Tanya Bangyeekhan
Non-Sporting Judge's Name: Mr. Raymond V. Filburn Jr.
Total Entry: 263
#1-
Dog Reg: GCH Bright Lights Rocyns 24 K Magic [Dog]
Breed: Bulldog
Handler: Eduardo Paris
Owner: Kara Gordon, Joan Fisher & Eduardo Paris
#2-
Dog Reg: GCHG Fox Canyons I Won The War At Goldshield [Dog]
Breed: French Bulldog
Handler: Perry Payson
Owner: Sandy & Morgan Fox, Perry Payson & Alexandra Vorbeck
#3-
Dog Reg: GCHG Spotlight Tequila Sunrise Bret D [Bitch]
Breed: Dalmatian
Handler: Phil Booth
Owner: C Wagner & J Bachey
Breeder: Connie Wagner & John Bachey
#4-
Dog Reg: GCHG Dawin Hearts Desire [Bitch]
Breed: Poodle (Standard)
Handler:
Owner: L Campbell
Breeder: Linda C Campbell
Herding Judge's Name: Dr. Steve Keating
Total Entry: 279
#1-
Dog Reg: GCHG Gem-N-I River Of Urloved CGC [Dog]
Breed: German Shepherd Dog
Handler: Lenny Brown
Owner: R Waits
#2-
Dog Reg: CH Bayshore Stonehaven Dusty Bunny [Bitch]
Breed: Australian Shepherd
Handler: Jamie Clute
Owner: Jeffrey Margeson, John Dale-Margeson & J Frank Baylis
#3-
Dog Reg: GCHG Rising Stars Happy One [Dog]
Breed: Border Collie
Handler: Jamie Clute
Owner: Maddie Tobias & Jessica Aniskoff
#4-
Dog Reg: GCH Revelation Adiva Aviva of Samara [Bitch]
Breed: Canaan Dog
Handler:
Owner: Pamela S Rosman & Philip R Vulliet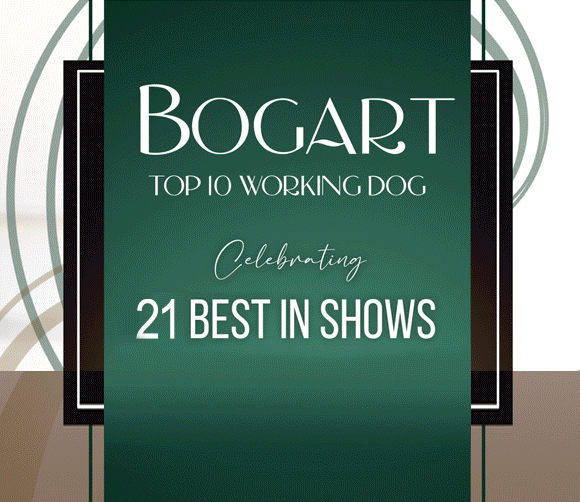 ---
Please note these results are not official and may be subject to change once official results are submitted to AKC.
The Canine Chronicle is not responsible for any errors or inadvertent omissions in the information reported on this site.
All information on www.caninechronicle.com is the sole property of The Canine Chronicle and Endeavor Publications, Inc. Reproduction of contents,either whole or in part is not permitted without consent of the publisher.
Short URL: https://caninechronicle.com/?p=221499
Posted by
Deb
on Jan 9 2022. Filed under
All Breed Show Results
. You can follow any responses to this entry through the
RSS 2.0
. Both comments and pings are currently closed.