Savannah Kennel Club – Tuesday, November 29, 2022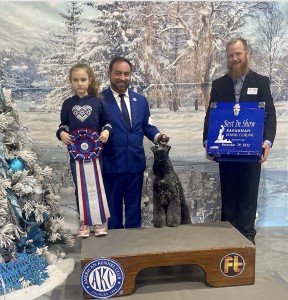 Show Name: Savannah Kennel Club
Location: Perry, GA
Show Date: Tuesday, November 29, 2022
Total Entry: 1240
Best In Show Judge: Mrs. Terry L. Berrios
Show Photographer(s):
Bryan McNabb • Website: www.mcnabbphotos.com
Dog Reg: GCHG Bluecrush Freedom And Whiskey! [Dog]
Breed: Kerry Blue Terrier
Handler: Blake Hansen
Owner: E Hart-Hansen
Breeder: E Hart-Hansen
Reserve Dog Reg: GCHS Wenricks Nightcap [Bitch]
Reserve Breed: Whippet
Reserve Handler: Cheslie Smithey
Reserve Owner: N Shaw & J & C Smithey
Breeder: J Garcini & D Snyder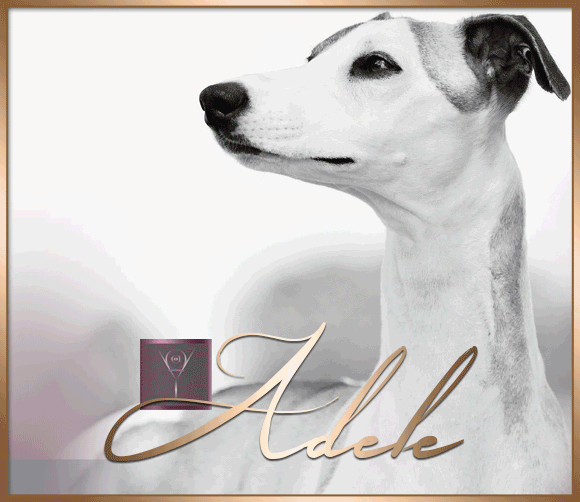 Sporting Judge's Name: Mrs. Nancy D. Simmons
Total Entry: 206
#1-
Dog Reg: GCHS Luxe The Grand Illusion [Dog]
Breed: Weimaraner
Handler: Michael Pitts
Owner: J Aune
Breeder: J Aune
#2-
Dog Reg: GCHP2 Cerise Bonanza [Dog]
Breed: Spaniel (English Springer)
Handler: Howard Huber Jr.
Owner: D Cherry & K & H Huber
Breeder: D Cherry, L Mancini & A Sommerfelt
#3-
Dog Reg: GCHG Brigadier Shamrock All Silver Stars [M]
Breed: Brittany
Handler: Diego Garcia
Owner: J & M Lee, B Rosener & J Cox
#4-
Dog Reg: GCH RNR Impact N Heywire Walk On The Wilde Side [Dog]
Breed: Pointer (German Wirehaired)
Handler:
Owner: E Reifschneider & K Hatton
Hound Judge's Name: Dr. Gareth Morgan-Jones
Total Entry: 156
#1-
Dog Reg: GCHS Wenricks Nightcap [Bitch]
Breed: Whippet
Handler: Cheslie Smithey
Owner: N Shaw & J & C Smithey
Breeder: J Garcini & D Snyder
#2-
Dog Reg: GCHG Kazuris All I Want For Christmas CGC TKN [Dog]
Breed: Beagle 15 inch
Handler: Michael Kurtzner
Owner: S Sweetman & M & K Kurtzner
Breeder: S Sweetman & M & K Kurtzner
#3-
Dog Reg: GCH Whits Classically Chloe [Bitch]
Breed: American Foxhound
Handler: Diego Garcia
Owner: R Whitlow Jr., S Whitlow, R Costello & C York
#4-
Dog Reg: GCHP2 Brownwood Rts Peace On Earth SL CGC [Dog]
Breed: Dachshund (Longhaired)
Handler: Madeline Peterson
Owner: L & R Tyler & M Peterson
Breeder: L, R & P Tyler & J Cerasini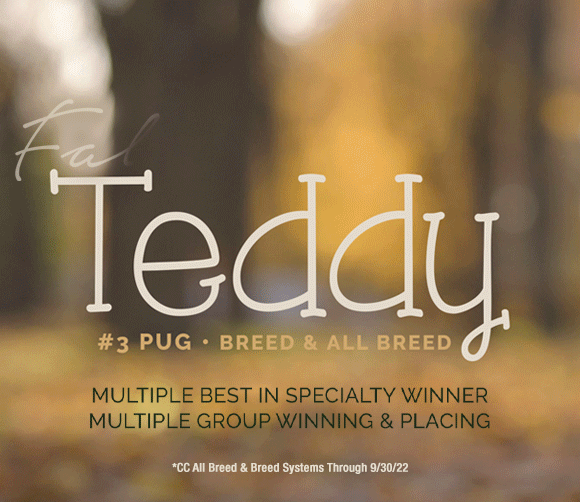 Working Judge's Name: Mr. Robert J. Shreve
Total Entry: 183
#1-
Dog Reg: GCHG Topaz Wildfire For Umunhum THDN [Bitch]
Breed: Siberian Husky
Handler: Lauren House
Owner: R McQueen & M Rusher
Breeder: C French
#2-
Dog Reg: GCHS Alcher Tmac Witchcraft V Gentry [Bitch]
Breed: Doberman Pinscher
Handler: Diego Garcia
Owner: C Green & T Mackenzie
Breeder: D Romans, C Green & T Mackenzie
#3-
Dog Reg: GCHS Drakyi Dreamlands Big Red Dog [Dog]
Breed: Tibetan Mastiff
Handler: Holly Leftwich
Owner: W & A Daily & M Brantley
Breeder: L Brantley, R Eichhorn & M Brantley
#4-
Dog Reg: GCH Eb The Relentless Pursuit Of Perfection [Dog]
Breed: Great Dane
Handler: Elyades Betancourt
Owner: E & P Bustillo, R Pineiro & E Betancourt
Terrier Judge's Name: Mrs. Terry L. Berrios
Total Entry: 129
#1-
Dog Reg: GCHG Bluecrush Freedom And Whiskey! [Dog]
Breed: Kerry Blue Terrier
Handler: Blake Hansen
Owner: E Hart-Hansen
Breeder: E Hart-Hansen
#2-
Dog Reg: GCHB Brightlucks Image At Bayleigh [Dog]
Breed: Welsh Terrier
Handler: Tracy Szaras
Owner: K Bailey & M Riddoch
#3-
Dog Reg: CH Kriscots Hes A Rebel At De La Pomme [Dog]
Breed: Scottish Terrier
Handler: Rebecca Cross
Owner: P Jaruthavee, H Krisko & R Cross
#4-
Dog Reg: GCHG Hi-Kel Terrydale Nanhall Mizzconceived [Bitch]
Breed: Lakeland Terrier
Handler: Ariel Cukier
Owner: M Wooldridge, KJ Anthony, J Stevens & A Cukier
Breeder: H Keyes & Terrydale Knls.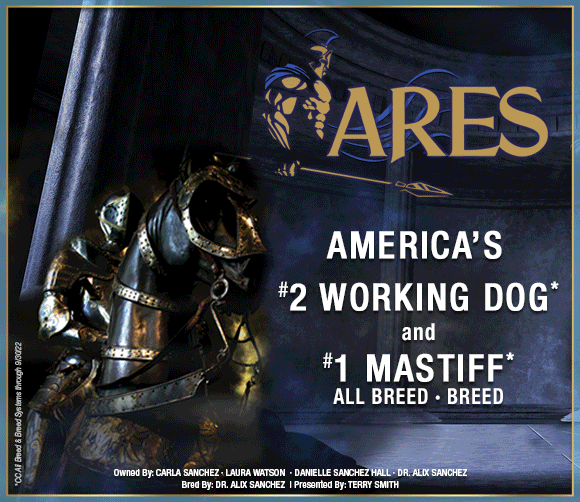 Toy Judge's Name: Mr. Richard D. Albee
Total Entry: 198
#1-
Dog Reg: Nautica Wildhart I Have A Dream [Bitch]
Breed: Italian Greyhound
Handler: Dana Cline
Owner: D Sutzman & D Cline
#2-
Dog Reg: GCH Grayhaven Somersets Swipe Right [Bitch]
Breed: Brussels Griffon
Handler: Susan Depew
Owner: J Crouse & S DePew
Breeder: K Jacobson, T Oliver & L Field Tracey
#3-
Dog Reg: GCHP Bramvers Orohime [Bitch]
Breed: Chihuahua (Long Coat)
Handler: Dolly Deview
Owner: L & B Block
Breeder: C Kadowaki
#4-
Dog Reg: GCHB Mountain Crest My Boy Watson [Dog]
Breed: Pomeranian
Handler: Michelle Jones
Owner: D & C Gilstrap
Non-Sporting Judge's Name: James J. Mitchell
Total Entry: 209
#1-
Dog Reg: GCHS Cherokee Legend Encore [Bitch]
Breed: Bulldog
Handler: Dennis O'Connor
Owner: A Moulton & K & N Mason
#2-
Dog Reg: GCH Cobano Avalos-Lara [Dog]
Breed: Xoloitzcuintli
Handler: Erika Lanasa
Owner: R Yenchesky & E Lanasa
#3-
Dog Reg: CH Holdsway Lion King [Dog]
Breed: Bichon Frise
Handler: Susan DePew
Owner: S Lee, S Nam, J Rubin, M Greif & C Fellbaum
#4-
Dog Reg: GCHB Asans N Padows Twilight Quil From A New Moon [Dog]
Breed: Chow Chow
Handler: Anita Sanders
Owner: L Ellison & A Sanders
Breeder: A Sanders & K Williams
Herding Judge's Name: Mr. Robert J. Shreve
Total Entry: 159
#1-
Dog Reg: GCHG Gem-N-I River Of Urloved CGC [Dog]
Breed: German Shepherd Dog
Handler: Lenny Brown
Owner: R Waits
Breeder: M Jewell, R Waits & B Stamper
#2-
Dog Reg: GCHS Cordmaker Punchinello [Dog]
Breed: Pulik
Handler: Linda Pitts
Owner: E Charles, S Kaul, M Feltenstein, R Beinhauer, L Pitts & P Kelly
#3-
Dog Reg: GCHG Northbay Xsell Thats A Wrap DJ [Bitch]
Breed: Australian Shepherd
Handler: Jessica Plourde
Owner: B Evans & H Parson Herron
Breeder: H Sells
#4-
Dog Reg: GCHG Now And Then Watermark Cruisin At Kelkary [Dog]
Breed: Bearded Collie
Handler: Mark Bettis
Owner: A Nakano-Berry & J Osterbauer
Breeder: Helga Werner & Sylke Werner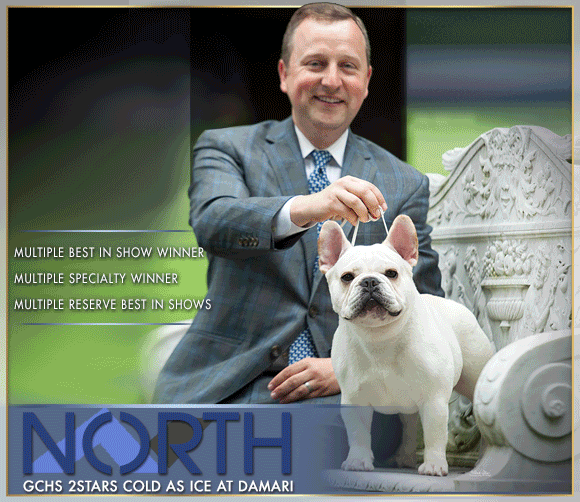 ---
Please note these results are not official and may be subject to change once official results are submitted to AKC.
The Canine Chronicle is not responsible for any errors or inadvertent omissions in the information reported on this site.
All information on www.caninechronicle.com is the sole property of The Canine Chronicle and Endeavor Publications, Inc. Reproduction of contents,either whole or in part is not permitted without consent of the publisher.
Short URL: https://caninechronicle.com/?p=252469
Posted by
Liz Powell
on Nov 29 2022. Filed under
All Breed Show Results
. You can follow any responses to this entry through the
RSS 2.0
. Both comments and pings are currently closed.