Table Talk · September 15, 2021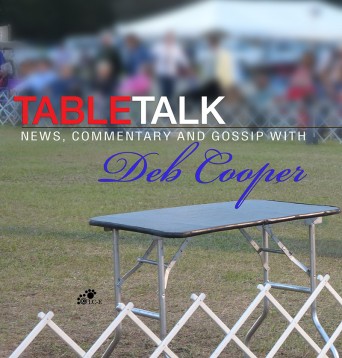 Table Talk · September 15, 2021
National Specialty season is upon us, and several parent clubs are holding "2Fers".  Sadly, many National Specialties were canceled in 2020 and some clubs have elected to make up all or part of their canceled National in conjunction with their 2021 specialty.  Those in our sport are determined to make up for what I will call "lost time"!!!!!  To all my friends that are attending National Specialties, be safe and enjoy.
A few of the Shar-Pei fanciers with therapy dogs were invited to the Lisle, Illinois police department while there for the National Specialty.  What a wonderful way to promote the purebred dog, our sport, and their breed!  Kudos to all that participated.  This would be a terrific idea for other Parent Clubs to do, as well.  Reach out to the local municipalities, senior care facilities, etc. and organize a visit.
Jen Reed, one of the 2021 Westminster Kennel Club Junior Showmanship judges, posted a lovely photograph of two Juniors supporting each other with congratulations as final placements were awarded. This post made a statement which rings true: "One of the many favorite things about my judging assignment at Westminster was even though the kids were all super competitive, they were all so supportive of each and genuinely happy for one another.  The grown-ups could take some pointers!  We should all be proud of our next generation and follow their lead!"
Morris & Essex and Montgomery County week is right around the corner!  If you have not gotten your entries in, you have until Friday, September 17th!  MB-F is the superintendent.  If you do not have your outfit picked out and need some pointers on what to wear, check out the most recent Closet Confidential segment with Elaine Lessig on Canine Chronicle TV (www.caninechronicletv.com).  You can also get the scoop on Morris & Essex from show chair Wayne Ferguson.
Many of you have met AKC judge Dr. Steve Keating.  Known as "Mother Keating" by those who know him well, Steve has a heart of gold and is always willing to help those who need it.  He recently traveled to Germany to work with evacuees.  This is not his first time traveling to Germany.  He has gone to Germany and Spain to help bring lost soldiers home.  Great job, Mother Keating!!
Laurie Green had an eventful trip home from the Des Moines shows this past weekend.  Unfortunately, her RV broke down en route.  Robin Novak, Laura King, Jody Garcini and Sam Hanle came to her rescue in true dog family fashion.  This is yet another example of our tight-knit community pitching in and helping each other.
I'd like to give a shout-out to Laura King who hung up her leads for a weekend to help her local all-breed club at their shows.  It was an especially tough weekend for Laura as the shows were dedicated to her mother, Sandy, who recently passed away.  Kudos to her for giving back to the community.
I was saddened to hear about the sudden passing of Irish Setter fancier, Jan Ziech.  Jan was an icon in the Irish Setter community and the sport in general. She will be greatly missed by all that had the pleasure of knowing her.
Celebrating anniversaries this week are Jeff and Becky Arch and Sulie and Greg Paveza.  Happy Anniversary, guys!  Enjoy your special day and may you have many more years of health and happiness ahead!
Many fanciers are celebrating birthdays this week.  At the top of this week's list is Eugene Blake who celebrated his 85th Birthday!  Also celebrating this week birthdays this week are Elliott Wentzel, Pam Beale, Corinna Ohrinberger, KayCee Klang, Susan St. John Brown, Tyler Mills, Bill Ellis, Holley Eldred, Grahm Miller, Michael Shepherd, Annmarie Ruggieri, Sandi Olsen, Robert Scott, Dorothy Schuerman, Vickie Mauk, Geir Flyckt-Pedersen, Angela Pickett, David Stout and Daniel Magee.  Happy Birthday one and all!  Enjoy your special day!
My thought for the week comes from Anne Rogers Clark. She said, "Fault judging is negative judging, and negative judging not only is non-productive when evaluating breeding stock, it gives you a headache at the end of the day."
Be safe out there my friends, and please lend a hand where you can.  There continues to be a serious shortage of volunteers and stewards at shows across the country.  Helping out at the shows actually makes you feel good!  I look forward to seeing you soon down the road.  Until next time…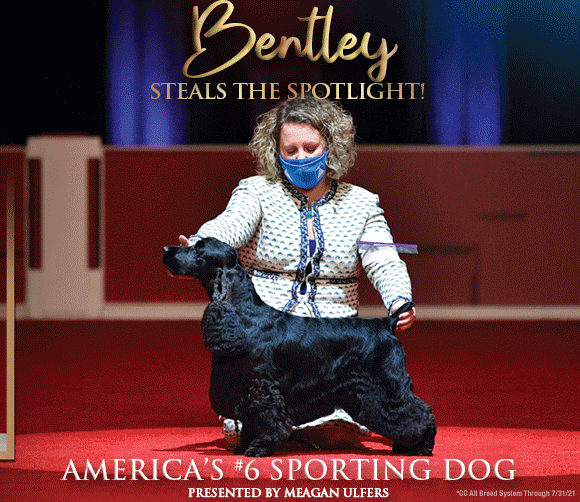 Short URL: https://caninechronicle.com/?p=212309