Andelys Kennel
From the archives of The Canine Chronicle, July, 2012
by Amy Fernandez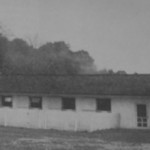 Quite a few breeders have the resources to buy the best and do things on a grand scale. That approach typically ensures instant recognition and transitory success, but rarely translates into a lasting contribution. That requires an element that money can't buy, an uncompromising focus on quality. Barbara Fallass and her daughter Susan Mason made historic contributions to the development of Smooth Fox Terriers, Greyhounds, and Welsh Pembroke Corgis.
Stanley Petter, Jr., breeder of the famed Hewly Greyhounds, was well-acquainted with both, describing them as "ladies to the cube root. They were such fascinating women, so friendly and so much fun to be around. They were very well-educated with endless money and endless taste. And they were dog people from top to bottom."
Then a student at the University of Virginia, Petter met them at his first Greyhound Club of America specialty, which was then alternately held at James and Emelie Farrell's (Foxden) estate in Darien, Connecticut and Susan Mason's home in Cross River, New York. Although he was a novice, Susan Mason quickly spotted Petter's potential and it wasn't long before they became friends. They were so knowledgeable and generous and…he adds, "they wanted to pass the torch. Right away, Susie told me that I needed to get serious about breeding. She asked if I wanted to join the Greyhound Club of America (GCA) and assured me that she would take care of it."
Petter admits that he was somewhat overwhelmed by this attention. "Her dogs were doing all the winning at that time. They were the best Greyhounds in the country aside from the Windholme dogs, but they were not consistent. The Little Andelys Greyhounds were always good." Equally successful at all breed shows and specialties, photos confirm their consistency. Susan Mason and her husband had achieved enviable success within a decade of founding their kennel in 1940. Harding Tremaine Mason's family came from Cornwall, the epicenter of Greyhound breeding, and he was equally involved in breeding and showing their Greyhounds, accompanying Susie to shows and helping her host GCA specialties at their estate.
Mason was then managing editor of the New Yorker, after 24 years at Newsweek where he had worked with Petter's uncle. "I didn't learn this until I got to know him." Petter goes on to say that Harding was called Mouse, but it wasn't because of his quiet, unassuming demeanor. "He was as quiet as a mouse when he courted Susie. No one knew about it until they announced their engagement." Petter adds that it was inevitable that his son Harding Jr. would bear the nickname Dormouse. "They were such a lovely family." Petter often traveled from Virginia to Cross River to spend weekends with Susie and her family. "She tried to teach me Greyhound structure. At one point I told her I didn't think I would ever get it. She said, 'you know equine anatomy and you understand architecture. Just train your eye to recognize balance and symmetry and you will understand this, too.'"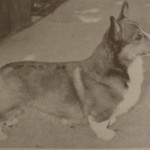 Susan Mason's almost offhand success in this highly competitive breed could be attributed to several factors. She definitely did a lot of things right, starting with the right handler. Nate Levine handled countless top winners of the 1940s and '50s, most notably Ch. Bang Away of Sirrah Crest. "Talk about being on a good team," says Petter, "Nate Levine was not a subtle handler, but he really knew how to show a dog." Thanks to fate, Petter and Levine had already met. "In my naiveté I had been dragging a track dog around the shows." On one occasion, he was elated to place first in his class of two, until Levine leaned over to say, "'You're never gonna do anything with that dog.' I had just beaten him. I was dumbfounded." One thing led to another and Levine helped him acquire his first show quality Greyhound, Canyon Crest Coronation. "Susie really admired her so I asked if it was okay if Nate handled her, and he showed her beautifully." Petter admits that, "For a kid in school, it was unbelievable to see my best friend/handler in every breed and group showing dogs like Bang Away."
Susie also enjoyed showing her own dogs and didn't hesitate to utilize personal leverage to highlight their quality. "Susie was drop dead gorgeous." Petter particularly recalls the year that she won Best Team at the Garden. Known as the black girls, her team included Dark Mist, Dark Appeal, Dark Gyre, and June Beauty. "Susie stepped into the ring wearing a gorgeous black dress and enough diamonds to put your eye out at 20 paces." Her Greyhounds were also impeccably maintained. They were exercised in enormous paddocks, rested on raised benches, ate the best food, and lived in a spotless kennel thanks to around the clock care.
But the true secret of her success was her relentless critical evaluation of her dogs. Her discerning taste was the result of a lifetime of learning to appreciate quality animals. "When she first came back to America she had a pair of Yorkies. I think they were the first I had ever seen. They were her pets and she kept them cut down, but both had won at Crufts and they were terriers through and through. She would not have kept them otherwise."
Her standards were exacting and her breeding program small and selective. Her 1964 application for a kennel license listed only three dogs on the premises. She bred very few litters, kept meticulous records, rarely repeated breedings, and culled ruthlessly. For instance, her records reveal that she culled an entire litter that could have easily sold on the merits of the pedigree alone. She bred Ch. Little Andley's Reflection, a bitch out of George West's Gamecock line to her celebrated foundation stud Eng./Am. Ch. Boughton Blue Lad of Little Andelys. Although it looked wonderful on paper it produced light bone, blue eyes, short necks, and bad shoulders. Her uncompromising standards didn't end when they entered the ring. The fact that a dog could finish didn't qualify it for championship status in Susie's eyes. And if it she didn't consider them good enough to be champions, they were definitely not good enough to breed. "Once when I was in England, I found a beautiful Greyhound and was considering buying him," says Petter. "I sent a telegram to Susie explaining that he was a great show dog but not a great Greyhound. She answered by asking if I wanted to breed show dogs or Greyhounds?"
Petter isn't sure how Susie got interested in Greyhounds, "but I know that she did quite a bit of stag hunting while they lived in France." Susan Lowe Quaintaince Mason was born in 1914 at the palatial Lowe family home in Grand Rapids, Michigan. Shortly after divorcing her first husband in 1913, Susie's mother took her to France where she enjoyed an idyllic childhood up in Normandy. "They truly had an eye for livestock," Petter notes that, "they even raised and showed poultry while they lived in France." Young single mothers typically deal with enough stress without relocating to a foreign country, but Barbara Lowe Fallass was far from average. Mother and daughter returned to America just prior to World War II.
"I always called her Mrs. Fallass, never by her first name. That's not the way I was brought up," says Petter. "She was a big woman, but so beautiful and elegant. That was a time when ladies dressed for shows. She always wore hats and gloves, and gorgeous suits." Born in 1893, Barbara Lowe Fallass grew up immersed in an interesting combination of affluence, culture, and country life offered by the flourishing city of Grand Rapids, Michigan. "A lot of people with money do not have a good eye. She grew up with dogs when it was part of a lady's education to know horses and dogs." Barbara possessed ample means to pursue her passions, and instilled her daughter with an equal appreciation for fine art and quality animals.
Susie's mother had in-depth experience in a dozen breeds. While in France, she bred beautiful black Pekes and established a formidable reputation for her Smooth Fox Terriers. She began breeding and showing them during the 1920s when the breed was at its zenith of popularity. In 1934 Hutchinson's Dog Encyclopedia said, "The chief buyers abroad for good winning Smooths are India, Australia, Canada, and America. And a good winning dog or bitch can always find a ready buyer in England. Prices of really outstanding specimens run to hundreds or thousands of pounds." Smooths had dominated dog shows from the outset, attracting a lethal combination of big money and unrivalled dog sense. Celebrated kennels regularly produced top class winners. It was not a playground for novices to learn the dog game.
Barbara's kennel name came from their beloved Normandy village of Les Andelys. A paved road divided it into two towns that became known as Great Andelys, and a mile away, the fishing village Le Petit Andelys. It was a natural choice for Susie to christen her Greyhound breeding program Little Andelys. "Susie and her mother were such a pair," says Petter. "They were different but alike, and they loved each other very much and worked so well together." When they first returned to America, Susie and her mother lived in Santa Barbara. "They left because they felt it had been overbuilt and ruined. I believe that's when the Hope Ranch at Montecito was developed. Petter laughs, "gorgeous houses on a bluff overlooking the Pacific are hardly what you and I would call a development, but Susie wanted to remember it as it was and she never went back."
They discovered Cross River while driving through the area in 1935. Petter describes it as "a beautiful part of New York State right across the border from Connecticut. It was very picturesque with little streams running through the property." Susie and Mouse had recently married and they were looking for a home and fell in love with the area and bought a large parcel of land. Mother and daughter shared the property. But each built homes to reflect their personal tastes, which were quite different. Susie converted a 200 year-old barn into a house. "It was breathtaking," recalls Petter, "Filled with beautiful art and antiques. And she raised three children in that house! Some of her Greyhound paintings dated from the seventeenth century. These beautiful things were part of her everyday life."
Barbara Fallass built Folie du Lac, an icon of French Provincial style that was regularly featured in home décor magazines. She began assembling her world class collection of art and antiques while living in Paris in the 1920s and eventually decorated three houses with a growing collection of museum quality eighteenth century art and provincial furniture. Much of her collection was shipped to America just before France was ransacked during World War II. This very likely ensured the survival of many treasures that now belong to the Metropolitan Museum of Art
The Andelys kennel received equal detail. Like many kennels of the era, it was a converted stable, 80 ft. long x 12 ft. wide. Seven box stalls were divided into 5 x 12 pens. The other stall held 24 cubicles for feeding and sleeping. This innovation predated the modern concept of crating, but accomplished the same. The tack room was converted into whelping quarters, and an 8 x 10 basement kitchen was added. The obligatory isolation kennel to quarantine new arrivals was large enough to accommodate six dogs for two weeks. Four 50 x 50 grass runs were surrounded by white picket fence to hide heavy mesh wire. Petter describes one more of the kennel's more ingenious features. "The sloping concrete runs had a dip at the edge, which made it impossible for dogs to lunge against the fence and damage their fronts."
Barbara loved dogs, but she was realistic and practical. This point was stressed in a November 1938 feature in the AKC Gazette. "The owner of Andelys believes that dogs of all breeds should receive the same training, for it accentuates their natural intelligence. But she is not an advocate of artificial tests of traditional working ability." To earn a French championship, Fox Terriers had to pass a working test which consisted of killing a fox. Years of exhibiting at FCI shows had honed Barbara's exacting standards.
When she got into Smooths it was fair to assume that the breed's unrivaled supremacy in the dog world would endure. But the money, connections, and dog knowledge that had propelled and ensured it also became its downfall. During the 1930s, the breed's big names died out without grooming another crop of fanciers to take their place. Novices veered away from the highly competitive Fox Terrier closed shop, and interest in the breed plummeted. Overall, Wires were in comparative better shape thanks to several genetic strongholds throughout the country. But in the 1930s, Smooths were dropping off the radar in America.
This changed abruptly in 1936 when two of the breed's most important dogs arrived on our shores, Saddler and Buckland. Nornay Saddler's show career was a non-starter until legendary Terrier expert George Thomas spotted the dog's potential and encouraged James Austin to buy him. This may qualify as the supreme incidence of bad timing. "Mrs. Fallass was so disappointed that Nornay Saddler was always ahead of her dog," says Petter but adds that, " Buckland was ahead as a producer for a long time…I don't think she much liked Mr. Austin."
In America, Saddler's success was instantaneous. Handled by Percy Roberts and Len Brumby, Sr., Saddler inspired Winthop Rutherford's famed quote, "when they drew up the Fox Terrier standard in 1876, they closed their eyes and dreamed of Saddler." In 1937, Saddler grabbed 25 BIS, an unimaginable accomplishment at that time. His record of 51 BIS remains debated, but he was America's supreme show dog until Nate Levine brought out Ch. Bang Away of Sirrah Crest.
In contrast, Eng. Am. Int. Ch. Buckland of Andelys was a top winner and proven producer in Britain and Europe before Barbara imported him for her Cross River kennel. Unfortunately, his incredible contribution to Smooths was overshadowed by Nornay Saddler's high profile career. Many authorities called Buckland the most important Smooth import of the era, but he was just one of many spectacular Smooths at Andley. His kennelmates included Ch. Oneway Storm, Eng. Ch. Harmon Balance, Fr. Ger. Ch. Adamac Compact and Eng. Ch. Towyne Rosemari.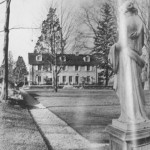 Eng. Ch. Avon Bondette arrived on the Queen Mary straight from her spectacular 8 CC winning streak. Bred to Buckland, she produced the 1940 American Fox Terrier Club winner Ch. Andelys Lovely Lady, Heir Apparent of Andelys. Because he was oversized, Barbara never showed him. Nonetheless, he had a major impact on breeding programs like James and Emilie Farrell's Foxden and William Brainard's Downsbragh line. From 1946-64, Andelys ranked as the top Smooth breeder, producing 30 champions, surpassing Brainard's total of 25. Smooths endured a rough patch, and although numbers dropped, quality endured thanks to these crucial Andelys imports. Her total of 40 homebred champions included Am. Eng. Ch. Cream of Andelys. Whelped in 1944, this double Buckland granddaughter became the first American Smooth bitch to earn an English championship.
These accomplishments are even more impressive because, for most of this time, Smooths were Barbara's secondary interest. Pembrokes caught her attention shortly after they were recognized in France. She was initially attracted the breed's trainability and took a close look at them at Crufts in 1928. Corgis existed in generic form for centuries and had been shown in England since 1896. The Kennel Club granted CCs to the breed in 1928 and opted to separate the increasingly dissimilar Cardigan and Pembroke types in 1934. That decision had unintended consequences.
Smaller, straight-fronted, and short-tailed, the perky, stylish Pembroke quickly gained a dedicated following that consistently eluded its far more ancient predecessor. The Pembroke's link to Britain's royal family didn't hurt either, and like other serious breeders, Barbara waited on the sidelines while this fad ran its course. Her unerring dog sense didn't fail her. By the time she returned to America, she knew this was her breed.
Before returning, she purchased several Pembrokes in England and had them shipped directly to America. Her first, Torment of Sealy, arrived early in 1937. He was an obedience titleist. The AKC Gazette announced his arrival by saying, " Mrs. Fallass always keeps Torment of Sealy with her and he travels with her between Cross River and her winter home in New York City." The following summer she imported a Rozavel Red Dragon daughter out of Tiffany of Coggers. Winner of 2 CCs, Scarbo of Coggers became Andelys' first Corgi champion. By the end of 1938 she had imported eight of England's best Pembrokes including a Red Dragon son, Eng. Am. Ch. Fitzdown Paul of Andelys. He made his debut going Breed at Crufts in 1936 followed by five more CCs. For Andelys, he earned the breed's first Westminster group placement, going Group Fourth in 1939. He also won the PWCCA specialty that year. She also brought over his granddaughter Eng. Am. Ch. Fire Bird of Coggins of Andelys, a Rozavel-bred bitch finished in a record breaking four months, and Specialty winner Ch. Byth Anthony Adverse. Her most celebrated acquisition was Eng. Am. Ch. Traveller's Joy, winner of 5 CCs and the breed's only Junior Warrant holder at that time. Widely considered the best Corgi of the era, Joy went Breed at Westminster in 1940.
Andelys Corgis were campaigned at important shows throughout the East Coast, and this ensured the Pembroke's success in America. Unlike its reception in Britain, AKC judges demonstrated plenty of resistance towards this unusual breed. In order to attract serious American fanciers, it was essential to keep good dogs in the ring. Because of her well-established reputation, Barbara could have easily coasted along winning in this new breed regardless of the quality of her dogs. But that wasn't the Andelys way of doing things. She invested heavily in dogs that made lasting contributions and Andelys became a stronghold of quality foundation stock. Although her imports were handpicked from many sources, they quickly coalesced into a consistent type that had a tremendous impact on the breed's evolution in America.
Many children would have shied away from inevitable comparisons to accomplishments like this. Susie inherited her mother's passion for dogs and Petter confirms that she was very interested in her mother's Smooths. Although her doggy interests went in a different direction, she didn't take the easy road. Greyhounds had been consistent winners since AKC began offering BIS in 1924. They were consistent winners in the Sporting Group, and dominated the Hound Group after its formation in 1930. Like Fox Terriers, this breed was also jam-packed with affluent fanciers who definitely knew their way around a dog. Like many other breeds of that era, British imports were the mainstay of quality. For instance, when Susie jumped into the game, the top Greyhound was the Geraldine Dodge import, Ch. Giralda's Cornish Man.
Barbara had relied on noted English importer A.G. Boggia to help her find quality Smooths and Pembrokes, and his choices had a lasting impact on both breeds. It was only natural for Susie and Barbara to turn to Boggia to help them find and import Greyhound stock. Unfortunately, in this case, his golden touch wasn't as reliable.
His most successful pick for Susie was Eng. Am. Ch. Boughton Blue Lad of Little Andelys bred by Peter George. Known as Bill, Blue Lad was an outstanding winner and producer, siring several champions for Susie and Mr. Batten. A Blue Lad daughter, Ch. Little Andelys Wild Honey, was used to found Kay Morrell's Overrun Kennel. "Kay Morrell was a lovely gal. Susie was very fond of her," says Petter. "Like everyone associated with Greyhounds, Kay understood structure. She was a horse woman, a cousin of the champion steeplechaser Dooley Adams." Kay's husband was in the travel business and she also wrote the first book on traveling pets. Petter points out that she was also ahead of her time in another respect. "She put the first obedience title on a Greyhound. The mind of the Greyhound had been greatly underestimated up to that point." On Susie's advice, Morrell bred Wild Honey to her half brother, Ch. Little Andelys Dark Cloud (out of Dark Mist). This litter produced two champions including specialty winner Ch. Overrun Tall Timber. These littermates were then inbred to produce the specialty winner Ch. Overrun Thou Swell.
However, several of the hounds that Boggia selected for Susie could only be called disasters, such as Boughton Damsel of Little Andelys and Andelys Boughton Bane, who could never be shown due to injury. "Susie never bred Dane or Damsel. Damsel was a beautiful bitch but she had a stop like a Pointer." The biggest disappointment was Am. Eng. Ch. Parcancady Lancer, bred by Peter George. Lancer sired one litter before leaving England, which produced Ch. Treetops Hawk. Winner of 14 CCS and multiple BIS, he sired 30 champions and Petter describes him as, " absolutely the sire of the breed. He was not for sale at any price, but several of his sons and grandsons came over here and they stamped the breed. He could have instantly revolutionized Greyhounds in this country."
Imported in 1952, Lancer sired three litters in quick succession which, unfortunately, produced nothing of merit. He died soon after. Petter explains that, "Lancer was a bad do'er and Boggia neglected to tell Susie that he was on an arsenic progression to improve his appetite. You must give a certain number of arsenic drops daily and decrease the dose in precisely the same order, otherwise all hell breaks loose. He died from arsenic withdrawal. Susie was a smart gal and a very good dog woman. If they had told her she could have eased him off the concoction. It was a terrible loss".
Luckily, Susie's mother had introduced her to Joseph Batten, who was then kennel editor of Town and Country. "It was an important section of the magazine back in those days, read by the people who counted," says Petter. "That's how he met Mrs. Fallass. Mr. Batten became Susie's mentor but she really helped him too." Petter describes it as a mutually beneficial relationship. "She would go to see his litters, pick a puppy, and ask how much he wanted. She always insisted that the price was too low and gave him a very generous check." Susie's patronage ensured that he had enough money to continue his Greyhound breeding program. "I know it made Mr. Batten feel appreciated. He told me this many times."
From Batten, Susie purchased three sisters, Little Andelys Dark Mist, Dark Appeal, and June Beauty. They were sired by Foxden Flamingo, the breed's top producer for many years. Anyone who knew what they were doing in Greyhounds went to him despite his lack of a show record. "He was a Carlanga dog bred by Jesse Prowse," says Petter, "They called him Flamingo because he was a big red dog." Bernice was Batten's favorite bitch, linebred on Harry Peter's import Ch. Viverdon Ground Swell of Wildholme. Dark Mist became an all breed and specialty BIS winner and all three bitches were outstanding producers, providing Little Andelys excellent foundation.
Batten did very little linebreeding. Instead, he relied on the less popular method of like-to-like breeding and most of his pedigrees were a partial or complete outcrosses. Obviously, this required an unerring eye for type, but it wasn't as risky as it sounds. At that time the American Greyhound gene pool consisted of a handful of carefully chosen, well-bred dogs. Petter recalls that AKC registered only 16 Greyhounds the year he started. "Breeders were very careful about where their dogs went. They didn't want the wrong people breeding them for the wrong reasons – exactly what has happened today. They rarely sold their dogs, but would happily give you one if they felt sure you would treat it right."
Batten soon earned an international reputation for excellent Greyhounds. "He had a scout in England, Mrs. Florence White." Petter explains that "it was an old English custom to name Greyhounds using your initials. You can spot her dogs in the pedigrees because they had names like Feminine Wiles and Fighting Warplane." Batten did the same. Three of his most important bitches, sired by Blue Lad, were Ch. Jocelyn Blue and Ch. Just Breezing, and Ch. Jennephur Blue. All three were sold to Elsie Neustadt to found her Rudel breeding program.
"Susie encouraged Elsie to work with Mr. Batten." By the 1950s her attention was shifting away from the Greyhounds. She was raising three children, and she had many other interests. She had recently sold her large Cross River house and moved into a chateau that she designed and built at the top of the hill. "But she wanted to ensure that Mr. Batten was taken care of," admits Petter. "Elsie had the money to do that." Elsie Neustadt's Rudel line, based on Batten breeding, eventually produced 40 champions and seven specialty winners and Elsie became president of GCA.
Petter regrets that other interests also caused him to lose contact with Susie and Barbara. "I knew that Susie was not well but I was heavily into horse breeding at that time. As I start to have these extra birthdays, I look back and think, 'You idiot'. It's really nice to have someone call and reminisce." Harding Mason passed away in 1978, followed by Barbara Fallass in 1979, and Susie in 1980. Their dedication, dog sense and eye for type had a permanent impact on three different breeds in this country. "It's been 30 years, but they are still remembered" says Petter. "The right dog people are so right."
Short URL: http://caninechronicle.com/?p=3255
Posted by
admin
on Aug 16 2020. Filed under
Current Articles
,
Dog Show History
,
Featured
,
Remembering Our Past?
. You can follow any responses to this entry through the
RSS 2.0
. Both comments and pings are currently closed.